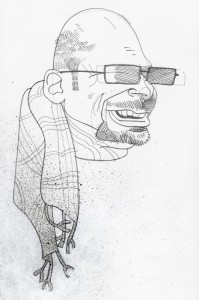 Brunetti lives and writes in Brooklyn. His work is featured in a special section in All Hands On: THE2NDHAND After 10, our 10th-anniversary anthology. Preorder your copy (it will be available within the next two weeks) here.
And so I said nothing to the girl in the turquoise coat with fur cuffs and collar because, really, what could I have said? And if she resembled Tuesday Weld it's because nobody remembered Tuesday Weld. And so I had to start again, at the beginning. I had to put down my coffee cup and loosen my tie. I had to pretend that I was interested in the sports page and all the murders taking place in the city. I had to pretend, like other men, that I was normal. But, that is, if they are pretending.
I looked out the plate-glass window at the front of the café and onto the dreary, rainy street. It was the last day of vacation and this is what God had granted. I didn't want to complain. I sipped my coffee and spoke into my shirtsleeve. I was in the process of finding out deep truths. Truths that point out people like Tuesday Weld. Hispanic Tuesday Welds even. Lovely as bones.
***
I would not go to the therapist because I was tired of her orange-striped shoes. But I went to the therapist. I was in pain and had to share it. I wanted to sing my pain out loud like a drunken sailor but felt too repressed. The therapist was also repressed. She kept herself calm and assured all the time. I wanted lightning. A big golden bolt to break through the front window of her Park Slope office. Park Slope, sloping downward into oblivion. Everyone lost in the park. Lost in joy. Active. Seemingly happy. And I was sitting there in the therapist's office with a thermometer in my mouth. I had a fever for living but couldn't let myself go. I fell in love with magazine covers and movie trailers. All the unattainable women dressed in black and white with sweet perfumes. My therapist wore perfume. She dabbed it on the tip of her balled-up tissue and brushed her neck. She had a lemony smelling neck. I almost dreamed I kissed it but that would crack the clown's face. Mine.
"I'm the clown," I told my therapist.
She asked me for a personal check.
"I'll get personal," I said. I delivered the fire, words that stabbed the air like glowing flint sticks.
"Pretty good," she told me, coolly. "Pretty good. You're not the first one I've had in here today, though. And you won't be the last."
***
I am first because I am last. I am last because…I'm a bible reader. I read the bible all the time, then forget everything I've ever read. There's no sense to it. Isn't it just the great story of the downfall of the Jews and the uprising of the Christians? But that's only if you extend into the New Testament. And even then, there's no such thing as a Christian in any of the Gospels. There's only Christ walking on water, condemning fig trees, and pleading with God the father. I wonder about his forlorn state. The way he felt forsaken. The human ingenuity in that role. The despair. The beauty. The aloneness.
And here I sit now, eating tuna fish. I don't have seven loaves or seven fishes. I have a pocketful of lint and loose change. I read George Orwell and think of times gone by. That man was a professional writer. Someone once cracked him in the jaw, though, for overstepping his bounds. He was a little too courageous.  I mean the world could really get into trouble with a host of people so courageous, couldn't it?
I ask this question of Lily. She' on her knees, cleaning my feet. She's a bible toter as well. At least for these four days that we stand outside of paradise. They've kicked us out of our favorite coffee shop — The Paradise Café — for cleaning feet. Or offering to clean feet. It seems like a nice enough ritual, heavy with religious significance, but the proprietor didn't see it that way. He kicked us out and treated us worse than a Seinfeld episode.
"I am not him," I said to Lily. Meaning Jesus. Or Seinfeld.
***
I will not be a bookworm for the book-fucking public. Everyone is getting fucked with books. It's my war against your war. It's my partisan politics against your fat/religious/rightwing/upchuck ass. It's every man for himself never. And always. Hail to the celebrities. Bestsellers.
So we don't walk on water. We pay for our places at parking meters. Lily gets a kick out of this.
"Charging for curb space! Charging for air!" Then she'll go off on one of her diatribes about Chief Seattle and how he understood and how much the white man never understood. How he, Seattle, saw the great flaw of white-bread humanity from top to bottom spreading throughout and devastating this holy, un-ownable land.
"Nobody owns nothing," Lily says. 'It's all free."
"That's when the times were a-changin'," I say. "Now they're changed back."
"Hrmph," she says.
"Waaahhh! Waahhh!" I call out.
Then Lily. Horse neighs. Pig snorts. Something.
***
The death of a poodle. It makes the front page of the New York Post because someone famous owned it. The poodle is the saddest of civilized dogs. It deserves headline obituaries — but for all the wrong reasons.
"Right reasons," Lily says.  "We need right reasons."
She's rotating her shoulders and rubbing her hands together above her bowl of hot soup. Soon, she'll start slurping and it will be the earthly pleasure of eating. The soup will wash over her tongue and down her esophagus. If she keeps her epiglottis shut, she'll swallow the soup properly and it'll end up in her stomach. Non-nutritious portions of it will solidify in her intestines and she'll shit them out like brown, rocky pebbles. She might even complain about the pain involved, but I'll turn the other cheek. I won't want to hear it anymore. I'll say:
"Just slap my face. It's a lot easier that way."
"Well, excuse me for bowel movements."
"You're excused." I say.
"Blah, blah," she says.
You'd never have thought it, but Lily is rather good-looking.
***
"Pogo? And Didi? And Estragon?"
"Yeah, those are the characters," I say. Something about Waiting for Godot. Lily wants a lot more out of this venture of ours than tiresome oblivion. She wants some kind of superficial fame. She wants to be a spin-off of Godot, or something. I'm not really privy to how her mind works.
"Let's just sit on this park bench and eat our ham sandwiches," I say. "Let's be grateful for that."
Lily resents that I see a therapist. She calls me a poser. I tell her that all my money goes to therapy, and rent, and feeding the two of us.
"That's not good enough," she says.
It never is," I say. "That's why people like to say Le divorce. That's French," I add.
"Hot shit," says Lily.
She's cleaning her teeth with a swizzle stick she found in the trash.
"You know," I say. "Some people have the moon and they don't want the moon. Other people have nothing — an eggplant or whatever — and they're just fine."
"Enough romantic shit," she says. She spits and tosses the swizzle stick. There's a sharp screeching of brakes behind us.
"Oh Christ," I say.
Someone just got hit. There's blood on the pavement and Lily doesn't like it. I don't blame her. The driver gets out of her SUV, tall, tan, talking on her cell-phone. She's complaining about her quarter panel, blinded vision, etc. The person on the street isn't really moving. I think I saw all this on the back of a cereal box once. One with panels that tell a story like a comic book. What to do in case of an emergency: Love Lily. Pray to God. Dial 911.
***
"Turquoise coat? I don't know anybody in a turquoise coat."
"What about Tuesday Weld?" Lily says.
"Oh, come on," I say.
"Tuesday Weld," she says.
"She ran off to Panama as far as I know. Or the Black Diamond Bay."
"Just so you know," Lily says.
"Just so I know what?" I say.
"Just so you know."
Yes. Let's keep the faith. We've lit candles under the little bridge in the park. We've made the cutout beneath the archway our nesting ground for the night. Lily can't stand my wife, who lies back in my apartment dressed up in a turquoise coat, smoking French cigarettes, reciting the French alphabet, promising me the world. Promising me the apocalypse and the subtle reappearance of the one and only Tuesday Weld.
ALL HANDS ON: THE2NDHAND AFTER 10