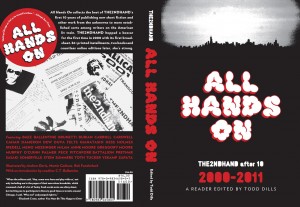 It's All Hands On touring time yet again, this one to join contributors in Philadelphia, NYC, and Northampton, Mass., for three consecutive nights of readings by contributors to All Hands On: THE2NDHAND After 10, our 10th anniversary anthology, among others. Here are the details: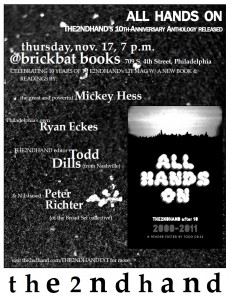 Philadelphia, Thursday, Nov. 17, 7 p.m. (click flyer image at right for a pdf)
@BrickBat Books, 709 South 4th Street
(215) 592-1207
w/ THE2NDHAND editor Todd Dills, longtime contributors Peter Richter and (our FAQ editor and Rider University prof) Mickey Hess, as well as Ryan Eckes.
Brooklyn, Friday, Nov. 18, 7 p.m.
@Book Thug Nation, 100 North 3rd Street
info@bookthugnation.com
w/ T2H editor Todd Dills, longtime contributors Tobias Carroll, Philip Brunetti and Mickey Hess as well as Gabe Durham and Matt Cahan.
Northampton, Mass., Saturday, Nov. 19, 7:30 p.m.
@MEF Community Room, 60 Masonic St., lower level (next to Woodstar Cafe)
w/ T2H editor Todd Dills, All Hands On contributors Matt Cahan and Ben Stein, Gabe Durham and Ted Powers. Music by Gale Thompson.
(For pdfs of flyers for New York and Northampton events, click here and here, respectively.)
PERFORMER DETAILS
PHILIP BRUNETTI lives and writes in Brooklyn.
Nashville-based MATT CAHAN's novel "Straight Commission" is excerpted in All Hands On: THE2NDHAND After 10.
TOBIAS CARROLL is an editor of Vol. 1. His fiction has appeared in THE2NDHAND, Metazen, Word Riot, 3:AM, Storychord, and elsewhere; he makes his home online at www.thescowl.org.
TODD DILLS is editor of THE2NDHAND and author of the novel Sons of the Rapture (Featherproof, 2006).
GABE DURHAM lives in Northampton, MA. He writes fiction and nonfiction, teaches literature, makes up test questions, and edits Dark Sky Magazine. His first book, a novel called Fun Camp, is forthcoming in 2013 from Mud Luscious Press.
Philadelphia-based RYAN ECKES' recent Old News chapbook was published by Furniture Press. Find more from him here.
MICKEY HESS is an Associate Professor of English at Rider University, where he teaches arc welding, mig welding, and creative nonfiction. Recent from Hess in T2H. The Novelist and the Rapper forthcoming in 2012. Find him here.
Poet TED POWERS' recent work has appeared in Strange Machine, Noo Journal, and GlitterPony, among others. He's also an editor with Dark Sky Magazine.
New Jersey-based writer PETER RICHTER's poetry and prose have been featured in Monkey Bicycle, THE2NDHAND, decomP and others. He likes wearing flannel, a recent development. He's a cofounder of the Broadset crew.
BEN STEIN teaches English Language Arts at the Springfield Renaissance School. He lives in Amherst with his wife Julie and their cat. His "Important Things to Remember" short is featured in All Hands On.
Chicago writer Jerman blogs here.
For Brandon L.
At a party at my neighbors'. She's wearing a black mini skirt and black tights. I'm a tall banner in a too-short lavender V-neck sweater and jeans.
I don't know her name. Never met her. She's not the girl I came with. All I know is by the end of the night I will know her and that could be a problem.
A few hours and the party's moved from the house to the bar, and we know a few details. Namely that she totally wants me. Including some of the most subtle racist shit I've ever heard — but I'm not sure she wants to admit that these aren't really her own thoughts and words. I'm at least not so drunk I don't know her heart's not in it.
So, a number exchange and a cheek-peck later my girl who is not this girl asks to hit it and we go.
Now Tuesday, and last weekend is miles away. Three o'clock and the winter sun bright as summer. I go out to the back deck of our building to smoke a cigarette I must have rolled months ago, the tobacco crisp and dry.
Looking down at the mess of mops, brooms, rags by the doors, a flash of something half remembered: I was drunk and out here with my girl about a month ago. She'd gone in for something and I stayed out catching cold. Out thru one of those back doors downstairs comes bursting this couple. Ejecting themselves from a party with their kisses audible. Their gropes frantic.
It was just sexy and violent enough for me to think later I'd dreamed it up in all my stupor.
One pulled the other back inside after their fevered ritual and I guess I went back inside too.
This time I found myself going straight for the fone to dial her. Black-skirt-black-tights picks up on the fourth ring.
Now here's "Hullo?" made of equal parts annoyance and obnoxiousness.
I immediately think: fuck. Why am I calling this altogether beautiful, altogether unremarkable girl? What am I going to say? And: Why am I resisting the urge to hang up?
And that's when the tender wave of freedom realized me: None of this will matter. And it doesn't have to go anywhere.
I could say whatever I liked.
Then I did:
"Hey! It's me, the boy you met at the party on Saturday. Yeah, that bar was great. No, you didn't introduce me to the bartender. Thanks, I thought you were well dressed also. No, really. Right, well it is a beautiful day and… Hmm, I've got a steady girlfriend. You know, you met her. Oh, yeah. Yeah, we'd love to. OK, what time and where? Yeah thanks, thanks again."
Ten minutes tops was all it took to get back in it for another go.
My girl couldn't wait. She's not usually into this weekend-after-next-party racket, but her attitude changed. I watched that mouth of hers and it behaved differently.
On the way over she showed her cards:
"Want to play a love game?"
Was this really happening? Tell me this was happening.
"'Love game?' Uh, yes?"
"OK. I pick the girl for you. You pick the boy for me. We have to kiss them in front of each other at some point in the evening. No rush."
I felt suddenly like it was my birthday and that here in the car on the way to a party on a Saturday night, all I had was all I wanted. The girl who was already mine had smiled at me and welcomed me home.
It was a good start.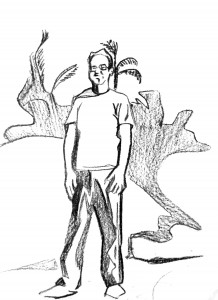 Hess is the genius behind the following blurb for THE2NDHAND's All Hands On: THE2NDHAND After 10 collection: "It is painfully accurate to call Todd Dills 'Tony Hollywood, New York Screenwriter.' That said, Dills' collection offers a comment on modern life. The narrators within this collection of stories may bring to mind a more youthful Holden Caulfield, or Toni Morrison being incredibly shaky, or Richard Ford faking it. You know. Because the book came from a collective of well-regarded idiots. They're nice. They're compassionate people. But idiots, oh my God." Mickey happens to be featured in the book. Enjoy his latest below, and find more from him here.
On the farm, my first day of work consisted of hog-tying. I had tie-dyed flannels on. "Deliver a lasso throw," my employer recited. Jack Estes was his name, a rustic guy who expected us to take pride in the lasso, but when I ventured a toss, he ground his teeth. "Hog-tying's a tradition, my friend," he arched his back and intoned. "Out here we wear rustic shirts." My colleagues looked at my tie-dye. One fellow was a black belt in aikido. Jack Estes was cracking his knuckles.
Then we stopped for the afternoon, famished from hurling lassos. We saw a belly-dancer, a Middle-Eastern original. Farmers rubbed her hips for good luck.
Sidetracked, we sauntered along the sidewalk on the outside of the nightclub, and Jack Estes laughed. I could have sworn he'd made a restroom stop in the bar, but he leaned against a street sign and pissed like a cement truck. He was Jack Estes, after all, and he was also our lasso employer.
Though it wasn't all fun and Biblical references, we were shocked nonetheless when the truth emerged: after all he promised us townsfolk, Estes went pacificist when it came right down to it, like with Vietnam or belief in the rights of others.