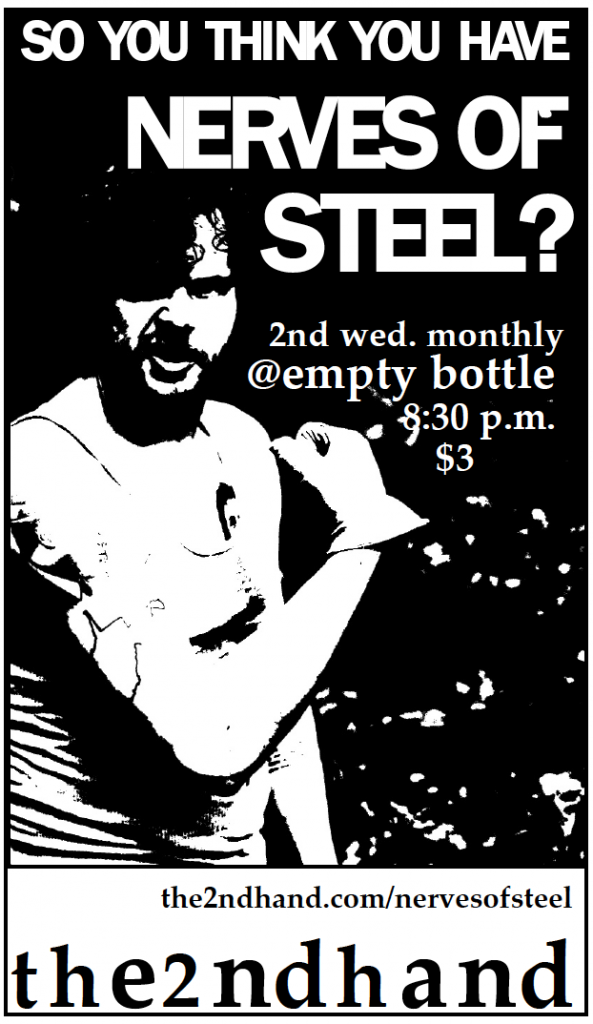 Spring has sprung and host Harold Ray's thoughts are returning time and again to "The Ballad of Neal & the Nerve Pills," a truly haggard tale that he will surely have to tell. House-Band Good Evening just hopes old Harold won't pass out on the railroad tracks again. Chicago's most Appalachian literary variety show, SO YOU THINK YOU HAVE NERVES OF STEEL? returns to the Empty Bottle for its April installment!: Wednesday, April 11, doors 8 p.m., show at 9. @Empty Bottle, 1035 N. Western, Chicago. $3.
Featuring:
Part One of a Complex Curtain-Raiser by Johannes Göransson
Rapped Attacks on Crapitalism by Kris De La Rash
Metier Buffalo Sauce Whipped Up by Patrick Culliton
plus: the Microphone Gymnastics of Russ February and Something Weird That Lasts for a Little Bit and Involves Marc Baez
And our house band, the great Good Evening.
Join us.
And check out Baez's performance at our October 2011 edition, which follows in the vid — in addition to being a great writer, Baez's a fantastically funny stand-up. Who knew? More vid at http://youtube.com/the2ndhandutube.
C.T. Ballentine lives and writes between Louisville, Ky., and Chicago, Ill. He's long been a coeditor of THE2NDHAND. Find his band on Facebook: Young Coconut.
Download .doc version of "The Wind's Wake" for your eReader.
"Lookit there…" Derwyn squinted out across the highway, into the Owl Crick Hollow, where a pigtailed child chased after a fat-bottomed rabbit who was, despite his domestic weight, surprisingly nimble. The child's father reached out and took firm hold of her shoulders, casting a worried eye at a sky gone olive green. The child swirled and wept into his knees, but allowed herself, slowly, to be coaxed back toward the front door.
The father swallowed hard. A relatively young man realizing, perhaps for the first time, that despite his best intentions he might be forced to explain death to his daughter. He closed his eyes as the sirens began. The child cried louder. Derwyn cheered.
"A little respect for the mourners," Walter muttered, but Derwyn did not hear. Probably just as well, he thought, watching Derwyn tighten the straps on his wind board, testing the give in repurposed ski boots. Among the myriad concepts a backwoods heel like Derwyn could expect to pass through life without understanding, mourning was likely a blessing; for here was a man with much to mourn and to do so at every given opportunity would surely paralyze even the most basic vital functions — eating, breathing, walking — although admitedly walking was shaky at times and hygiene, especially of the oral and nasal variety, was infrequent enough to be in and of itself reason to mourn. No, Derwyn's unbridled enthusiasm would never know the weight of tears, which quality the television crews had been, no doubt, eager to capture. That there were no television crews taping presently, for example, had not given Derwyn cause to mourn, though Walter was another story.
They'd come representing reality shows for a nature channel; their current project not far along enough in development even to be given a title, but the general gist was silly rednecks exposing themselves to the danger of weather calamities. There would be stock footage of unusual natural disasters: caves collapsing, falling glacial earthquakes, underwater volcanoes, other things beautifully awful and awfully beautiful. And live footage of those insane enough to enjoy the things most mortals feared. Like Derwyn and Walter: Tornado Surfers. Though it was a true hobby for Derwyn alone. Walter had viewed the situation with the tight lips and dumb glare of a scheming Southern businessman. Given a shot at cable television he could surely parlay Derwyn's entertaining ignorance into a regular program or at very least a viral YouTube clip sure to bring sufficient publicity to open a novelty gift shop off the bluffs of the interstate.
But the winds refused to show and the producers lost interest. Here they were: solo, off the record. For Walter a final hurrah. He'd wanted to bail on this particular opportunity but couldn't stomach the pained confusion sure to show on Derwyn's dumb face. And also there was the fact of the folded paper note inside Walter's back pocket, the existence of which was strictly personal and probably more than a little fruity. A note to the tornado. Had he been drunk when he wrote it? No, but he would continue to tell himself otherwise. He had, in fact, only been emotional, overcome with mourning for lost opportunities, lost youth, lost ambition, loss in general. He couldn't remember the letter's exact phrasing and he was too embarrassed to reread it, but it was something to the effect of:
"I know you weren't here when I wanted you. Maybe you feel terrible for that. I'm sure you feel terrible for lots of other things. People curse you constantly for ruining their homes, their farms, their lives. I understand. Often I too feel terrible. I hope, maybe, today that we can dance together and forget that we are terrible."
It was Derwyn's ! yippee ! that pulled Walter from his reflection. And there it was: a funnel cloud larger than a football stadium, sending trees flying like dominoes. Walter felt his windboard pull his feet above his head. He caught sight of the pet bunny rabbit, floating next to part of a shed's roof. The rabbit was looking at him. He could not move his arm enough to wave, but tried to part his lips and whisper, Good luck.