THE2NDHAND txt is the online-only variant of THE2NDHAND literary broadsheet, publishing fiction weekly and playing host to various blogs and online txt projects from the years 2000-2013 A.D. TXT was launched in this form in 2011; find recent archives via the 'txt' nav link; For published writing back to 2000, see the archive on the old site.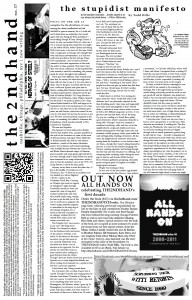 The broadsheet was founded in Chicago in 2000 and featured new short writing from working authors across the U.S. It fostered an inclusive mix of seasoned practitioners, insurgent experimentalists, and wild-hare audiences with a perennial indie-lit favorite.

While THE2NDHAND no longer encourages blind submissions, THE2NDHAND txt remains a venue for new writing — past or new contributors interested in pursuing a collaborative book or other project via T2H txt, be in touch with editor and publisher Todd Dills — todd [at] the2ndhand.com.
If you want a full picture of THE2NDHAND's literary focus and fictional legacy, check out our 10th-anniversary anthology, All Hands On: THE2NDHAND After 10, available in print and ebook editions here.
Blogs/projects hosted here:
Wing & Fly | THE2NDHAND founding editor Todd Dills' occasional series of ephemera, work in progress and T2H news.