COMING SUMMER 2017
Novelist Paul A. Toth's short-story collection The War Is Over, Let's Go Shopping has been overdue since before his novels (Airplane Novel, Fizz, Fishnet, Finale) began coming out more than a decade ago. One of the most prolific short story writers among those working the first generation of online literary magazines at the turn of the 21st century, and ever since, Toth writes about decline, widely and generally, with a sense of humor tinged with absurdism and an unflinching honesty in his empathy for enormously flawed characters.
From the book's foreword by THE2NDHAND editor Todd Dills:
One of those books that, if history is kind, I'd wager will resonate years, decades, centuries hence itself, well beyond whatever fall is in store for each and every one of us near- and/or long-term to turn us all into refugees…. To immerse oneself in Toth's fictions is to be convinced of and accept such notions about yourself willingly, nay, jubilantly, cackling all the way to the grave. Decline, widely and generally, amid otherwise teeming advance…. Yet the messy humanity on offer in these stories is ultimately not without hope of happiness, of purpose and love.
Preorder ($11) via the button below (payment process through Paypal).
—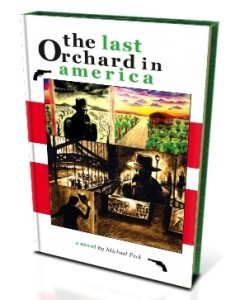 In Michael Peck's first novel, The Last Orchard in America, Sue Longtree is too young to be a matriarch, but when she moves to run down the story behind her brother's suicide, she stands at the top looking down on a family in shambles. The suicide's hardly a whodunit, as the private dick that Longtree hires, the hero of this noir, Harry Jome, sees it. Or is it? The answer may lie less in a wall's bloodstains or the cheap framed prints that cover them than in the pages of a manuscript. The hardboiled meta-noir that is The Last Orchard in America channels both the noir genre's suspense and seaminess, and at once offers an implicit critique of the culture that makes it possible. 
Order your copy of the paperback here ($12 payment processed via Paypal):
Read more about the book and explore ebook options via this link.
—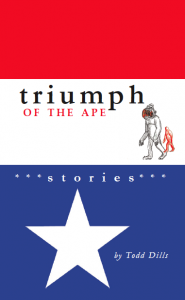 Triumph of the Ape, collecting short stories by THE2NDHAND editor Todd Dills, is available in first-edition eBook (available in most formats) and 150-page paperback. Click through the cover image to order via CreateSpace/Amazon, and order direct here (payment processed via Paypal):

From the Afterword by Spencer Dew
"Triumph reads, as a whole, like a book might if written by a man who finally, reaching the beach, realizes the bits of wreckage half buried in the sand are everything that mattered, the places of dreams and opportunity. The damn dirty apes win…." 
—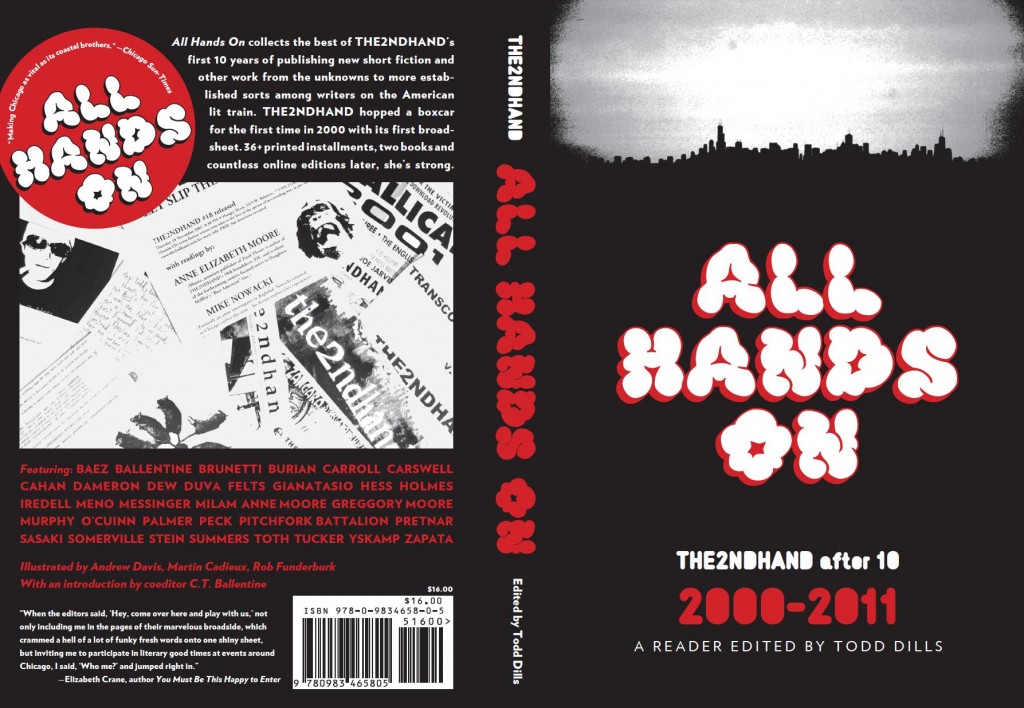 All Hands On: THE2NDHAND after 10, published in 2011 on the occasion of THE2NDHAND's 10th anniversary, features previously published and new work from more than 40 contributors, from Joe Meno and Patrick Somerville to Kate Duva, Mickey Hess, Jill Summers and so many more.
Find further info on the book's main page (it's also available in ebook) or order via PayPal to todd@the2ndhand.com here:
—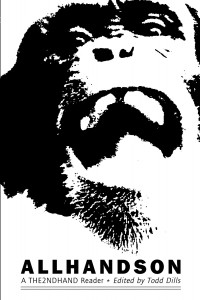 In 2004, THE2NDHAND published the predecessor collection to its 10th-anniversary All Hands On collection. All Hands On: A THE2NDHAND Reader collected the best of the broadsheet and online magazine's first four years foraying into the literary world, centered in those days in large part in Chicago's vibrant lit scene. The book features an introduction by Canadian writer and independent publisher Jim Munroe, and stories by dozens of writers, from Joe Meno to the magazine's editor to stalwarts of those early years such as Joe Jarvis, Eric Graf, Germania Solorzano and many more. Find more on the book's main page. Or order via PayPal: