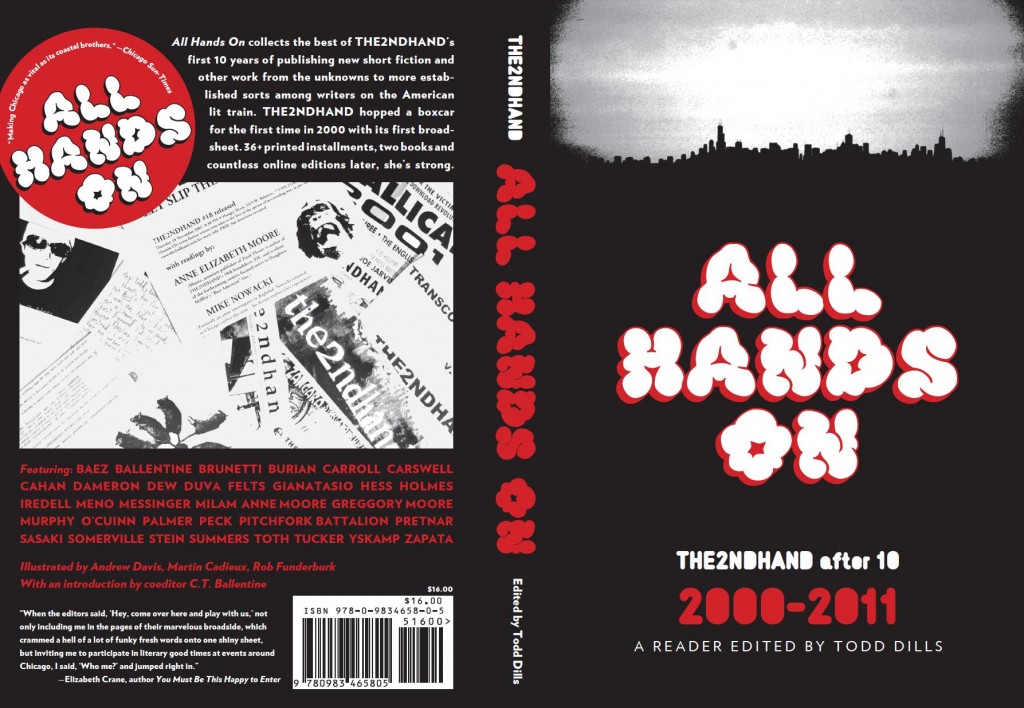 It was a long run for THE2NDHAND broadsheet, perhaps the last periodical on earth to be launched without a prefabbed website to bolster its offset-printed pages (though 'twas to follow shortly, publishing flash and serial fiction here weekly from late 2000 on). We mean: THE2NDHAND was a page. A big one — 11×17-inch block of black text peppered variously with photo-illustrations, comics, line drawings, distributed in storefronts first in Chicago, then in an ever-growing list of cities around the U.S. New writing, simply, was its focus from the time editor and publisher Todd Dills founded it in 2000 — a small format its physicality, but a loud mouth and a big heart its most important parts.
After a successful Kickstarter campaign raised funds to print the book, All Hands On: THE2NDHAND after 10 arrived in summer 2011 to celebrate and lay down the best of the mag's 10+ years of publishing writing by the budding insurgents of the American lit landscape — and others, no doubt. True to form, the book begins with a section of new, previously unpublished work.
Order All Hands On: THE2NDHAND AFTER 10 by sending a $16 ppd payment through PayPal via the "Add to cart" button or to todd@the2ndhand.com.
Alternately, send $16 check or well-concealed cash to:
THE2NDHAND, c/o Todd Dills, 1430 Roberts Ave., Nashville, TN 37206
It's also available in a pdf download via Scribd for $6:
All Hands On: THE2NDHAND After 10, 2000-11, a Reader
"Amidst all the flashy forms of media being catapulted at us daily on television and on the internet, simplicity triumphs in THE2NDHAND. A decade after the first issue appeared at Quimby's Bookstore, words and well-chosen imagery are still the point of this single 11 x 17 sheet of white paper with black print." –Chicago Publishes
The 300-plus-page All Hands On collects previously unpublished stories by the likes of past contributors Nadria Tucker, Patrick Somerville (The Cradle) and Joe Meno (The Great Perhaps) as well as new faces like Amanda Yskamp, Ben Stein and others. Special sections over the bulk of the book are occupied in most instances by multiple shorts from our best repeat writers, from Meno, Somerville, Tobias Carroll, and Al Burian to Heather Palmer, Jill Summers, Kate Duva and longtime T2H FAQ editor Mickey Hess (Big Wheel at the Cracker Factory).
SPECS FOLLOW:
ALL HANDS ON: THE2NDHAND After 10, 2000-2011, 300+ pages, perfect-bound paperback, a reader edited by Todd Dills w/ an introduction by T2H coeditor C.T. Ballentine and featuring new work and other features by: Michael Zapata, Jamie Iredell, Patrick Somerville, Amanda Yskamp, Nadria Tucker, Fred Sasaki, Ben Stein, Susannah Felts & Todd Dills, a mini-epic poem ("Chicago") by Doug Milam, Matt Cahan and Mike Nowacki
**Cover design by Featherproof Books' (and T2H contributor) Zach Dodson
**Illustrations for the lead section by comix artist/cermacist Andrew Davis
**Author illustrations by Chicago artist and T2H janitor-in-residence Rob Funderburk, Davis, and Nashville printmaker/illustrator Martin Cadieux
**Special sections with multiple short stories by Marc Baez, coeditor C.T. Ballentine (including the entirety of his "Friedrich Nietzsche Waits for a Date" novella), Philip Brunetti, Al Burian (the Burn Collector zine and associated books), Tobias Carroll ("The Scowl" blogger), Spencer Dew (Songs of Insurgency), Kate Duva (cohost of our Chicago "So you think you have nerves of steel?" reading series), David Gianatasio (Mind Games), Mickey Hess (Big Wheel at the Cracker Factory), Joe Meno (The Great Perhaps, Hairstyles of the Damned), Jonathan Messinger (Hiding Out), Doug Milam (Still the Confusion), Anne Elizabeth Moore (Unmarketable: Brandalism, Copyfighting, Mocketing, and the Erosion of Integrity) with comic adaptation by Josh Bayer, Greggory Moore, Kevin O'Cuinn, Heather Palmer, Michael Peck, the Pitchfork Battalion (a collaborative crew with roving membership, including many of those already listed, plus, featured in the book, Sean Carswell, Jim Murphy, Emerson Dameron, and Dominique Holmes), Lauren Pretnar, Patrick Somerville (The Cradle), Jill Summers, Paul A. Toth (Finale), and Nadria Tucker.