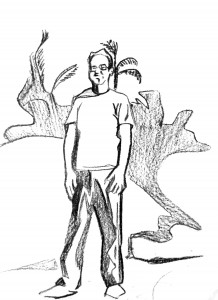 Hess is the genius behind the following blurb for THE2NDHAND's All Hands On: THE2NDHAND After 10 collection: "It is painfully accurate to call Todd Dills 'Tony Hollywood, New York Screenwriter.' That said, Dills' collection offers a comment on modern life. The narrators within this collection of stories may bring to mind a more youthful Holden Caulfield, or Toni Morrison being incredibly shaky, or Richard Ford faking it. You know. Because the book came from a collective of well-regarded idiots. They're nice. They're compassionate people. But idiots, oh my God." Mickey happens to be featured in the book. Enjoy his latest below, and find more from him here.
On the farm, my first day of work consisted of hog-tying. I had tie-dyed flannels on. "Deliver a lasso throw," my employer recited. Jack Estes was his name, a rustic guy who expected us to take pride in the lasso, but when I ventured a toss, he ground his teeth. "Hog-tying's a tradition, my friend," he arched his back and intoned. "Out here we wear rustic shirts." My colleagues looked at my tie-dye. One fellow was a black belt in aikido. Jack Estes was cracking his knuckles.
Then we stopped for the afternoon, famished from hurling lassos. We saw a belly-dancer, a Middle-Eastern original. Farmers rubbed her hips for good luck.
Sidetracked, we sauntered along the sidewalk on the outside of the nightclub, and Jack Estes laughed. I could have sworn he'd made a restroom stop in the bar, but he leaned against a street sign and pissed like a cement truck. He was Jack Estes, after all, and he was also our lasso employer.
Though it wasn't all fun and Biblical references, we were shocked nonetheless when the truth emerged: after all he promised us townsfolk, Estes went pacificist when it came right down to it, like with Vietnam or belief in the rights of others.