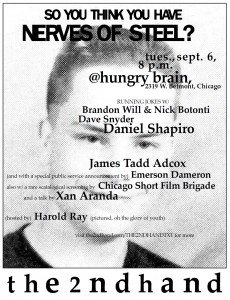 The September 6 edition of THE2NDHAND's So You Think You Have Nerves of Steel? variety affair — the first Tuesday of the month at Chicago's Hungry Brain — is, simply put, "Jokes." As such, among the requisite litterateurs and musical acts this time around are a coterie of funnymen / -women, among them the great Emerson Dameron (featured in our new book), who delivers the special public service announcement to open the show. Among others:
*Brandon Will and Nick Bitonti deliver Dead Peckers w/ Puppets
*Dirtiest of the Dirties Dave Snyder
*Manic one-liners from Daniel Shapiro
*Sickness Personified in James Tadd Adcox with Andy Farkas
PLUS: A scatological screening of a short film you won't want to miss, including a talk by Xan Aranda of Chicago Short Film Brigade.
As always, the indigent Harold Ray hosts. Let's give him something to laugh about. Show up!
September 6, Hungry Brain, 2319 W. Belmont, Chicago, 8 p.m. See you there….
—
THE2NDHAND @ BIRMINGHAM ARTWALK Sept.  9-10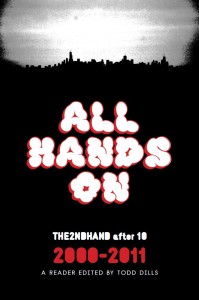 We'll be tabling with the new book, All Hands On: THE2NDHAND After 10 (click on the cover image to order for $15 here), marking our 10th anniversary with work from scores of our best writers, outside What's on Second on 2nd Avenue downtown (corner of 23rd). We've got a rich history with the Friday evening/Saturday art fest, which opens up spaces in downtown Birmingham businesses to transform them in art galleries; for more of that. If you're lucky, we might take on our literary busker roles of the days of yore (tip of the hat to you, Jonny Messinger); hope to see you on the street.
Friday, Sept. 9, 5-10 p.m.; Saturday, Sept. 10, noon-6 p.m. For more.