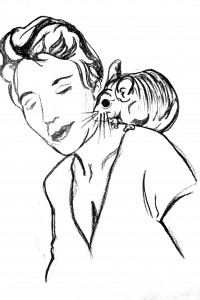 Kate Duva (pictured, with chinchilla) performed this piece, with considerable laughter as part, alongside Jonathan Messinger, Jill Summers and THE2NDHAND editor Todd Dills' own "They Were Gods" riffs, published as a unit here. The performance was on the occasion of release of All Hands On: THE2NDHAND After 10, where you can find more of Duva's work.
They were gods. King Tut. Genghis Khan. Crazy Horse. Erik the Red. Bootsy Collins, Elvis Presley, the Backstreet Boys. And I slept with them all.
It all opened up for me shortly after my 969th birthday. I was still active in my local singles' adventure club, where a swing dance or a mystery dinner theater or haunted hay ride inevitably ended in a love marathon — but — I just burned out on the physical demands of it all, not to mention the danger of modern day cooties.
And then the perfect solution to the hassles of dating hit me — virtual sex. No technology involved — I'm talking séances. Ethical séances! — lest you think I raped Genghis Khan. I'm not a succubus. If anything, Mr. Khan had his way with me, but I can't say I didn't have fun. I always ask for permission, and I always get it.
Seances aren't limited to the dead, I call in the spirit of my neighbor, the guy with a wife and newborn triplets and a dog that squirts its way around the block four times a day, and believe me, he's always ready for a little action.
On September 3, 1988, Little Richard made an announcement that he had seen the light of the Lord and could proclaim himself a proud ex-gay — and you'd best believe I was in his bedroom the night of September 2.
My man-journeys do go beyond the strictly erotic. I don't do it just to get my rocks off anymore. I had big plans when I seduced Donald Rumsfeld, for example, or when I appeared in Karl Rove's secret chamber — those were genuine missions to dig up the dirt we need exposed to set America back on track, but I have to admit I found myself getting a little sidetracked by the humanity I found lurking under the surface both in Karlitos and Donny Boy.
I'm a bleedin' heart. I'll give a demon my breast. In fact, when I lived in Kathmandu I had a volunteer job doing just that. That is one culture in which they've recognized that it's more cost-effective to suckle demons than to lock them up.
I did — get — a temporary case of gonorrhea when I slept with (God, I have selective amnesia when it comes to certain tortured souls) the vice president who shot someone and had the lesbian romance novelist wife — Cheney! Dick Cheney gave me the clap, a full-blown case of it, then POOF! It disappeared. No antibiotics. Just prayer, and a little shamanic healing from my meerkat guides. Clearly that was a psychic illness that manifested, ever so briefly, on a physical level.
It taught me that I can use that physical level wisely for erotic multi-tasking. I call in the spirits of men to help me open jars, or show me how to use tools — take a peek at my engine, check my oil — and one thing leads to another. Just think about who you could call in to check your oil. Ramses. Sun Ra. Alexander the Great. Homer. Rumi. Poseidon. Jesus. Vlad the Impaler.
So — moving along! What I'd like to do this evening is share some of my techniques in seductive séance with all of you so that you too can benefit from this sustainable technology of safe and pleasurable lovem– did you hear that? Whoa, did you feel that? Hahaha. Yeah, I actually need to get going now. It's Genghis paging me. Ladies and gentlemen — I think I have a booty call.
A PUBLIC SERVICE ANNOUNCEMENT AT SO YOU THINK YOU HAVE NERVES OF STEEL? BY KATE DUVA