Just prior to my trip to Chicago last month (hey folks in NY, MASS, PENN, we're headed your way Nov. 17-19) I got an email from Mairead Case and Erin Teegarden looking for volunteers for an "oblique strategies" zine project that involved the use of the eponymous deck of cards made by Brian Eno and Peter Schmidt that offer randomized techniques toward solving various dilemmas. In the project Case and Teegarden described, writers were asked to pick an original piece to revisit, using the "oblique strategy" on an assigned card toward a redraft / rewrite of the piece.
Case and Teegarden made zines featuring eight pieces written in such a fashion, one of them mine, on the occasion of the Chicago Calling Arts Festival, a multi-arts fest celebrating collaboration and culture. The "oh bleek strategy!" I worked from was "Retrace Your Steps." Given that I was preparing for the Chicago events at the time, our Stupidist Manifestos were high in my mind. So, here's the retracing of my manifesto, followed by the original. Enjoy:
STRATEGY: RETRACE YOUR STEPS
Would that it were not a cable news catchphrase: Lean Forward
-17. There is we. It exists.
-16. The little girl and I play for keeps, a movie is broadcast on a pile of woodchips, another girl dares the little girl to do what she herself just did. No, I say, shuddering.
…
0. I speak much and often in the first-person plural about things that have nothing to do with anyone but myself. Is it about me? It is. More than likely, anyway.
1. Wanting send-off, intertextuality, life to imitate art and vice versa.
…
15. There was a reading in a cellar for books. I had returned briefly. I had been gone a long time. I was not yet a father, though what would be a daughter was a reality in the womb of the woman accompanying me to the reading, who by this time knew it. I tried to smoke cigarettes as far away from her as I could get. It wasn't far enough.
…
19. I read the rest of Shklovsky, including his 1920s Soviet military expansion notes; his biographical sketch of Mayakovsky, that pompous ass, on honeymoon on Greek beaches and cafes; his third factory. I read Bolano and well remembered conceptions of movementeering, of schools of aesthetic thought that above all else held themselves in somewhat satirical regard during moments of high philosophical import. Friends laughed, drunk with it all. I laughed with them.
20. A picture in a box in someone's closet of three humans, two men and a woman as young and perhaps drunk as they look, one of the men with his mouth wide open as if an ape high as a kite. This picture is the essence. This picture distills the day of its taking – stars in high regard, beer patios, drive-by shootings.
…
24. Surrounded by dumb, loud music, surrounded by bodies, sweat, someone proffers a name. "Listen: 'Stupidism.'" "I like it." "No, listen: 'Stupidism.' You don't get it." "I like it."
…
33. There was another reading. I used the first-person plural to make myself sound as if I had a core of humans at my back who were ready to tear down the walls with me just to get to her. I didn't think it worked, then, but it did.
…
38. There is no we.
39. We were not at the airport – or on the avenue in Brooklyn running parallel to the East River, Greenpoint, where I last saw her — when she gave me the book, a full-edition photocopy of the book, rather. It held stupid lessons in stupid art, in stupid love, some of the lessons all the more true for their stupidity. "We are in the business of the creation of new things." That's one, if extrapolated. "Routine we transform into anecdotes." Another. "Insults aimed at us can always be jotted down." The ultimate.
…
56. I drank a measly quite hefty pint of whisky at a party. It all ended well, after the brief headache.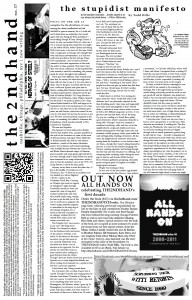 THE STUPIDIST MANIFESTO
We are the lesser primates among humanity — we require digital extensions with pens — but we wear the label proudly, hopefully, forcefully. Apes unite!
We live in a time of intelligence. Everything — from bombs and insurance policies to mood medications and the interfaces that guide our communications devices, which is to say nothing of the communications devices themselves, to the multiplicity of the choices available to us (make it the smart choice, goes a commercial local to someplace in the anonymous American wilds, for a particular brand of soap) — yes, everything, is smart. Everything, except for ourselves, and by extension our literature. Where we might achieve success, ever defined by money and happiness, our literature can only be a good read, a page-turner, a titillating memoir of a CEO come from the brink of financial ruin to a truer self-understanding. Malarky, we say, a word with a rich history that we well know. And this: if we are being excluded from the panoply of intelligence amassing in veritable constellations, or massive, very real military ranks, around us, what can we be but stupid?
It sounds like an insult, but let us embrace it. Philosophs and litterateurs the eons over have played games of definition, after all. Let us be stupid like the fox, that trickster of folklore, stupid like the fools of Shakespeare, like the Invisible Man of the modern American canon, he who once warned us to beware of those who talk of the spiral of history, for they are preparing a boomerang. We hold our steel helmets at the ready. The messengers of the new intelligence amass at the gates to the halls of the literature. The Stupidists meet them, remanufactured typewriters and pens stolen from office garbage bins our weaponry, cast-off printouts from PowerPoint presentations our ammunition. We fill the empty backs of the prints with exquisite stupidity. We need not loaves and fishes — we feed the armada with words.
The Stupidist needs not the comfort of home, she draws sustenance from the road, the experience of the new. And when in Rome, when immersed in the culture of the humans, the apes lives on the rooftops, ever roving, well above the umbrella. The Stupidist is a litterateur for the unsuspecting. We are in the business of the creation of new things.