Herein the final installment of Peck's long-running serial noir. In the previous installment, private eye Harry Jome was running off the rails in pursuit of an elusive truth. At the orchard itself, he was about to meet the proprietor and father of the woman whom he can blame, maybe, for the pursuit — or at least this iteration of it. Things were getting Shakespearean, and they continue thusly…
Download "Last Orchard" .doc for your eReader (available for a limited time).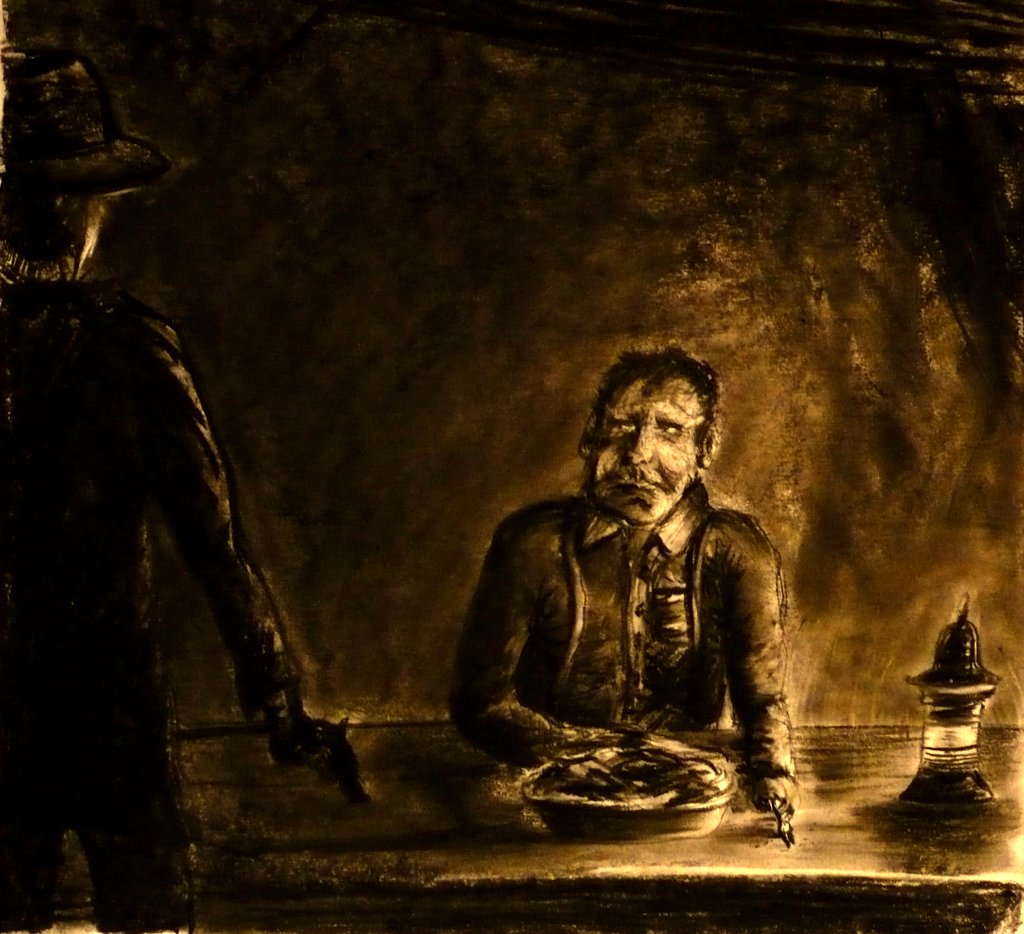 Chapter 37
I pulled up to the mud outside the cottage. Trees had collapsed all around the square pasteboard building, badly-fitted planks covering holes where windows should have been, and there were hints of light in the cracks. The grass was four feet high except in those spots where some heavy-farming implement had been abandoned. I wasn't sure why I was waiting for darkness to come. I was drained and tried closing my eyes, but I was too tired for rest. I was too tired for anything, especially this.
Night fell in sharp checkerboard dividends around the branches and squat hills. A playful moon and a timorous solitude made the orchard look quaint and innocent. I waited until the horizon was dark, the motor humming me back to childhood. I noticed streams of chimney exhaust blankly descending into the gravelly sky above.
The orchard brought a feeling I had experienced at my worst moments. Maybe it was a metaphor, but I didn't think much of metaphors. Besides, the presence of death everywhere doesn't beg poetry to have much of an imagination. The orchard was a symbol in a drawing, and I was entering that place where a symbol and a reality were difficult to tell apart.
I shut off the motor and got out, immediately breathing in the dread that seemed to have constructed the place. From somewhere near the main road I heard the acceleration of a vehicle, and perhaps the creak of a door opening and not closing. And I heard nothing else but my own footfalls crunching on dead leaves.
I let myself in to the cottage without bothering to knock. The stench of dead fruit had me incapacitated for an instant. I felt at the grip of the pistol tucked into my waistband.
The space was nothing but a wasted accumulation of old tools and sacks full of spilling apples, a compact fusion of kitchen, living room and bedroom. Daddy Longtree blinked at me from behind a table that was really just a long door propped up by concrete blocks. He was eating an apple pie with a butter knife, and there was a lantern in the middle of the makeshift table, providing only enough light to find the lantern itself.
"I heard you out there in your car for about an hour or so. Hope you aren't scared of me." Longtree groaned. He had a strand of gray hair combed toward his eyebrows, slight gray stubble that rose high on his prominent cheekbones and close-set dark eyes that were like bubbles on the surface of a swamp.
"I was thinking of being afraid," I said. "But I decided against it. There's enough fear in you for the both of us."
"I'm not afraid of you. I just met you."
"Right now I'm a little afraid of me. And not to get on a tangent, but what's that kid's problem out there?"
"He's just mean. He's an orphan. Orphans can be mean."
I grabbed a chair by the sink and brought it over to face him. He munched contentedly on the spoiled, mold-green pie. Moving things rummaged in the crust.
"They're going to build a lunatic asylum on my land," Longtree said. "What should I think of that?"
"They won't have to look far for inhabitants."
Longtree smiled, then grew serious and smiled wider.
"I've been thinking," he said.
"That doesn't sound hopeful."
"It isn't." He scooped a large helping, bending his head and using his free hand to scrape a rogue apple slice into his mouth. Something pried its way from between Longtree's lips and skittered away.
"We all of us," he said, "have one day to go back into the dirt. I'm getting a head start." He scraped what remained of his brown teeth with the butter knife. "It's around that time when I should ask who you are," he said.
"Whoever I am doesn't matter."
"Are you selling something?" he asked.
"I'm not selling anything."
"Everybody is selling something."
"What are you selling, Longtree?"
He lifted his eyes to the ceiling and contemplated the tears in the plaster. "I honestly don't think I'm selling anything."
"Who were you with that night at the bar?" I asked.
"What night?"
"That night you were there. Was it Florence?" The overpowering stench of vinegar was becoming familiar and less noxious.
"Who?" Longtree asked coyly. "Who is that? Florence?"
I was beginning to doubt someone and it wasn't me. "What about Ben Bergen, your son."
"I don't have any son," he said wistfully.
I stared at him as he plunged back into the pie.
"You think that's a good angle?" I asked.
He peeked at me above a scoop of pie. "I'm not being cagey. I did have a son. Now I don't have a son. He died off a few years ago."
"How?" I blurted.
Longtree only shook his head. Frustration was getting a clawing at me. I pulled the pistol out of my pants and put it on my lap.
"And what about your daughter?"
"I do have one of those. Sue. She's a belligerent girl. Sue has problems. It is a Longtree trait."
"Sue's dead too. Drowned herself in a tub."
Longtree had nothing in his face. "I sort of supposed that," he said.
"William Florence?" I said. "And I'm not really kidding. Who is he?"
"Yes, Will is an insurance man. He was digging in the Longtree family — something about a policy taken out on Sue by her sleazy husband. It's possible that he discovered more about the Longtrees than anyone ever had and was planning something. He was coming here to grease his hands. Which is probably what you're here to do as well."
"Ever read the papers?"
"No."
"I think Florence was the guy in the motel with the bullet in the back of his head."
"Does that concern me?"
"That depends on whether it concerns you. So Florence got something on you and you paid him."
"I didn't pay him."
"What did you do?"
Longtree breathed and his breath was stale and wretched. "I didn't do anything."
"Somebody did something."
Connections were piling into my head faster than I could sort them out. If Sue was lying about Ben she'd done a nifty job of covering it up by changing the last name and making sure I couldn't trace it here. Which I did anyway.
Longtree reached under the table and I tensed. The object in his hand was a book and he set it down between us. One apple-encrusted thumbprint was visible on the cover. He sighed. I looked at the flap: A History of Death. By Dominic Early. Of all people.
He said, "It's loosely based on the history of my horrific family, which you might know something about. All the names are changed, obviously, but it's a thrilling work. My father was a murderer, as was his father, and his father, etc., etc." Longtree belched. "There's no reason in it. Just inheritance of very bad genes, I guess. Every Longtree is a monster. You should be careful, Mr. Jome. They say that whoever struggles with monsters is likely to become one."
"Who says that?"
"My dead wife, actually. That's why I'm alone up here. I like being alone up here."
I crushed a beetle that was climbing up my pants leg and said nothing because there was nothing to say.
"I am the commonest man," Longtree said. "Aren't I? Wouldn't you say that I am the commonest man?"
I put the gun on the table and pointed it at him.
"Sure," I breathed. I couldn't stand his frazzled smirk any longer. Longtree only cut another dollop of bug-infected pie and pretended that the gun and I weren't there. Finished, he bent over and took something off the floor and handed it to me. It was the drawing of the orchard, although in this one the charcoal had been scratched off in places.
"That's the original," Longtree said. "I'd like it if you had it. I used to give copies of it to people I respected."
He paused and licked crumbs out of his facial hair with a wide tongue, laying the drawing on the table.
"I'm glad you're here though," he said. "Just to remind me why I'm here." He gazed longingly at the pie. "I am awfully glad you're here. I made the discovery long ago," as though reciting from a fairy tale, without pausing, "that I was a murderer. What made me kill Ben? I had no option. He told me how hard it was for him to function without the urge to kill someone. I don't think he ever did. But before I stopped telling him it was going to be OK my hands were around his neck and I had no control at all and he just let me do it." Longtree stared off calmly. "When he was dead I hung him in his garage. First time I'd been away from here. Everybody was sad for me. I was sad for me. Even now I don't have any guilt or anything. I wonder why that is?"
I slumped back in my chair. He continued to sputter on as he ate.
"I couldn't have anyone suffer. Ben was going to be a murderer like the whole course of his ancestry and I had to prevent that.  And then I did prevent that. I was thinking of his little girl. I was also thinking of everybody else too."
Now he didn't use his utensil, but just dug into the pie with his hands and stuffed a mound of apple and insects into his unperturbed grin.
"So now you are aware. You probably would have figured it out sooner or later," he said. "So how much do you want?"
I stared hard at Longtree.
"You know about farming?" he asked me, pricking up his eyes to meet mine. "First you have to care for each tree like it was a part of your own body. That's why my orchard is so successful," he said. "I got 50 pickers at least. I make such a nice apple pie. Mm hmm," he mumbled. He tapped his ring finger twice on the pie tin. On the third tap his hands and his head dropped at the pistol's retort. I was mildly surprised that I had shot him. A billow of acrid smoke erupted to the rafters and stayed there. Longtree's legs twitched, kicking out an absurdly fast dance. He had one last breath to say something pithy, but it came out in a whisper that I couldn't hear and smelled rankly of bitter almonds. I hadn't thought death would smell of bitter almonds. There were a lot of things I didn't know.
On my way out I had to laugh. Because of the Longtrees and my role in wiping the rest of them out, directly or indirectly. Except for the daughter, Dot, who was the last of them. But she couldn't be a part of this grisly tale. My laughter fell flat in the cramped and anguished room, dying the split-second it pushed off my lips. Head turned to the ceiling, still seated at the table, Daddy Longtree was just a shadow,  and not an imposing one either.
For a minute I stared at the drawing of the orchard up close to the lantern, a hint of something important tugging at me, just off the border of the picture. What was it in the dark shapes and swirls that was I missing? My mind was all puckered, waiting. It seemed that it was all right there; the problem was that I couldn't be sure what "it" was supposed to be, "all" signified, or "there" was. The upturned furniture and the apples were starting to bother me, and so I folded the drawing and brought it with me. I imagined a voice coming from somewhere nearby, looked at Longtree, as inert as an ice sculpture.
The night was warm with the musty smell of imminent rain. Just outside in the grass I unfolded the drawing and peered at it some more. There was still something I was not getting but that was spelled out plainly in the charcoal smudges. Again I heard the muttering voice, the way someone might talk on the telephone from the other side of a thick wall, coming from a batch of tall trees to the east.
I waited with the drawing in my hands, not certain how to handle my delusions, or if they were delusions. For the third time I wound the drawing into a tube and simply stood there listening.
Chapter 38
There was no moon, and I was forced to go by what scant noise there was. Owls fluttered and sang, the trees soughed, animals moved about. It took a lot of effort not to think about anything. Underfoot the dirt crackled, and when I had my hand on the car door I heard something I shouldn't have heard, namely a man's voice starting to sing a lovely song and then instantly halting the lyrics.
"Jome?" the man said from the trees. "I was just thinking about you."
I swiveled, fearing for a second that the voice was my own and then fearing more that it wasn't. I was so sleep deprived I could no longer tell whether or not I was talking.
"Jome," the person said again from a copse of trees surrounded by a clearing of fallen saplings.
"Who's asking?" I shouted.
"I am." The man's tone was high-pitched, recognizable, though I couldn't place the cadence, and possibly drunk. "I heard what you did. What'd you do anyway? In there with Longtree? You gone lunatic or something?"
I squinted through the twisted foliage, raising the pistol towards the sound. I couldn't make the man out.
"Longtree killed his son," I said. "So I killed him back. The story has a happy ending for everybody."
"Not for Longtree it doesn't."
Neither of us said anything for a minute.
"Which one are you?" I asked.
"I'm Walt Wald."
"I figured."
"Do you have it figured, Jome? What do you think you're going to do now that you have it figured?"
"I haven't really gotten to that part yet. I was planning on getting in my car and driving back to the city."
"Tonight? That's a long drive. Maybe you should stay somewhere and start fresh in the morning."
"Are we talking about something, Wald? This has lost some track."
"Look, Jome. I'm a private investigator and Sue hired me to watch Lewishom and I just came upon him after you killed him in his car. Not very nice of you, Jome. I know what it probably looks like in Longtree's and I won't argue. But I thought you'd let me take you in because you're going to be in regardless and it would be nice if I could be the one to do it. That's two dead people. Knowing you I'm sure there's more somewhere else."
"Lewishom killed himself."
"That could be claimed about everybody in a way."
"That doesn't sound convincing."
"That Sue is a crazy bitch," he said. "Can you believe it?"
"She was," I said. I crouched low, aiming into the darkness. The moon was sneaking coyly out from a cluster of clouds now and when it did the clearing would be illuminated.
"Why the past tense, Jome?"
"She drowned herself," I said.
"When did she do that?"
"Earlier."
Ahead, the spot where the man was concealed was being slowly lighted.
"I just talked to her little while ago," the voice said. "That's too bad. How am I going to get the money she owes me for this?"
"I'm not sure, Wald."
"I'm not either."
"She told me she was going to Florida after all this."
And the moon flared, revealing the clearing and the tall, upright figure that was just a glancing silhouette and nothing more.
"What do you mean Florida?" I asked. "And what do you mean, all of this? What is this?"
"I mean," he started to say, and just then my gun interrupted him and the silhouette dropped hard with a scattering of twigs. I stood and got into the car. On the way back my headlights swept over the stoned kid from the office. He was wide-eyed and he was running for the cottage. I rolled the window down.
"Kid," I yelled at him. "It's a real mess up there."
His mouth said something and he kept running.
The strong breeze was invigorating and I was suddenly awake.
I returned through the wreckage of trees, all mold and utter sorrow. Nestled into a turnaround off the path a green sedan was parked, belonging, I guessed, to Wald.
I drove too fast, skimming into culverts and narrowly missing a few trees. Maybe I'd killed Longtree to offer some kind of resolution; then again, I could have simply not known what to do. I blamed it on fatigue and confusion. But killing Wald couldn't be rationalized. Maybe it could.
Additionally there seemed to be a gathering of private dicks out for me. Why had Sue hired all these people and had them follow me and each other? Nothing made sense.
Sue Longtree, I thought, probably deserved everything that she did to herself.
Why anything anymore.
And so Ben Bergen was what he'd always been: a name, and a face I'd never seen.
I was coming down with a rotten head cold, and endured a bout of sneezing while I drove.
I really wished the suit was done already.
Coming into view of Sutter Falls and back on paved roads I was overlooking the lake and the moonlight dinging off the surface. I braked and for five minutes I admired the water and the air, and then I felt stupid and kept driving. It was just past nine.
I passed fields and lonely farmers on tractors inching through the fields.
I was sure that I was being followed, and a moment later I was sure I wasn't. Then I wasn't sure. Cars appeared and reappeared in my rear-view with inconstant regularity. I was convinced that both Wald and Lewishom were behind me somewhere in the night, still tenaciously on the case. I couldn't shake them. Every few miles I pulled off to the side. Twice I thought their respective cars had bypassed me when I was stopped. I learned to stop looking behind me.
The drawing was on the seat beside me and I repeatedly held it to the dome light, looking into the amateur lines for some kind of meaning. Finally I stuck it out the window and let the rush of wind have it.
The wipers were on the whole drive. Twenty minutes away from the city and it was pouring again. At each off-ramp into town I kept driving, until there weren't any more exits and there was just the highway and the static lights of the highway.
Eventually I turned back. I was obsessing over my tailor and getting mad that the suit wasn't finished yet.
The city, suddenly — the things and places that were familiar — felt somehow foreign.
Chapter 39
At the office a legion of dust stalked the air and settled over the ruins of furniture. The reddish shadow from Parker's head had dulled to a milky relief, like the pigment you'd see in a Rothko.
An hour and 20 minutes to midnight. Sleeping would have been the right thing to do, but I was too exhausted and too haunted for the idea not to seem like a nightmare. Instead I stretched out under the window like a cat. Ants bustled on the wood near my face, and I felt like drowning some of them in my saliva. The gash in my throat was still bandaged and the sting had gone away but I could feel my heartbeat throbbing in the wound. I pried myself off the floor without any ants being harmed and gobbled a handful of aspirin. From a desk drawer I pulled a tissue, the cold now filling my head and eyes.
I was finished.
In a lunge of exotic dread I was suddenly emptying the contents of the filing cabinets one by one, yanking bygone cases and files and items from the drawers and just piling it all on the floor in a mania I couldn't explain but for an odd reason enjoyed.
I blamed it on the Longtrees, along with everything else that was wrong.
After 20 minutes I'd tired myself out and sat and watched the neon city bounce around inside the room. The office was now a tangled mess of clutter, a broken mug scattered in the midst.
Maybe I was looking for something and by not finding it I was coming closer to realizing that there was nothing to find. The Longtree fiasco was itching me and I couldn't do anything about it. What had it been about?
I stood and tried to shake off my brain.
Rain smeared the windows and the lights outside. Then lightning flattered the night in an afternoon glow.
I smiled at the man in the window. He didn't smile back.
"What the hell is wrong with you?" I asked.
"I got a cold or something."
"That's too bad."
"Is it?"
And then I punched the window, but it didn't shatter and I tried again. Then I tried again and it still wouldn't shatter.
I looked at my knuckles. At the wall. At the dust. At the broken mug. Everything didn't feel right.
I was drifting off into a black-and-white dream when the call came in. I thought I recognized the soft-spoken, uneasy voice. "Harry Jome?" the man asked.
"I think so. Let me check."
"Could you meet me right away? I'm at the diner near your building?" He said it like a question.
"I'm a little busy here just now."
"It's not unimportant. It's about Sue Longtree and some other things."
"I don't care about Sue."
"You might care about these other things," the man said and wasn't there. I pried myself into the elevator and got to the diner a minute later.
At a far booth inside the diner a skinny teenaged couple were necking with every part of their bodies except for their necks. Both of them pimpled and as carefree as quantum physics. The place was drenched in artificial warmth. Behind the counter the waitress who'd caused the commotion a few days ago had returned to her job, obviously pregnant and obviously angry about it. The teenaged boy glared at me as though I was his girl's uncle come to take her home.
The man at the counter was in a gray tweed suit and brown spats. He had a stoic profile. He was too poised and pale to belong there. His salt-and-pepper hair was long and parted and hadn't been touched by a barber in months. A mustache fit perfectly on his upper lip. His umbrella had fallen underneath his stool, and near his elbows there was a stack of stapled papers.
I wedged into the stool beside him and shook my head when the waitress asked me what I'd have.
"Jome, isn't it?" the man asked. When he turned his eyeballs were crystals, very blue and very careful.
"You Florence?" I asked back.
"No, but it's still nice to know you. Sorry about the circumstances."
"I don't know what the circumstances are."
He shrugged. A cup of coffee was pushed off to the side.
"Are you Florence?" I asked. "Or Bergen or some other asshole?"
"I should be somebody," he said, using his fingers to taper his mustache.
"Whoever you are you've caused a lot of stupid dying and I'm the one going to be chained up for it."
"People sometimes die," he said casually. "Isn't it better that it's for a reason?"
"What's better for a reason?"
"What I'm telling you."
"So far you haven't told me anything."
"I haven't?"
"No."
"I thought I had. Well, I'm saying that those deaths were kind of not my fault. By the way, how many people have you killed in the past couple of days?" His mustache twitched like it was trying to leap away from his mouth.
"OK. So I don't know what you have or if you have anything," I said. "Ben Bergen is dead but used another name and I can't track down Florence, which is the name he used. And Sue is dead and a couple of nerds called Parker and Porter," I realized that I was counting the dead on my fingers. "Lewishom. Wald, I think. Maybe even somebody I've never heard of."
The man nodded and bit both his lips at the same time.
"Maybe I'm the guy you've never heard of," he said. "Dean Bruckner. We're in the same line of work.
"How did that happen?"
"The Longtree lady needed somebody good to follow you and the guys following you and to keep eyes on how it was going."
"I never noticed you."
"Because she needed somebody good. I just told you. And I'm a little proud of that."
"You shouldn't be."
"I am though."
"So what?" I said. "What about Bergen and Florence."
"I don't know anything about them but I do know that neither of them has anything to do with this."
Bruckner's troubling eyes were mellow with the intensity of brooding over intense things. The light in the room was all crooked, like an origami construction of shadows.
"Ever hear the name Dominic Early?" Bruckner asked.
"I know all about Domoinic Early. He and Sue are the same person. A hack writer of juvenile stuff."
"I'm glad you know Early is Sue because that's the big explanation."
He slid the stack of pages over to me. I flipped the manuscript over. The title was big and blatant and contained five words: The Last Orchard in America. And below that, A Novel by Dominic Early.
"Jome, you were just research for Sue's latest dumb potboiler and I was the researcher," Bruckner said. "She hired me to track you around town. She was all blocked up, she said. The case was only for a plot of hers. All she wanted to do was stir things up by hiring a bunch of investigators and see what popped out of the disorder."
"Is it any good?" I asked without knowing why I asked.
"She's not a good writer and it has no ending. It does include her suicide though. Maybe you can conclude it if you want to."
Somewhere within me everything halted. The answer I had was to the question I hadn't asked. I was so enraged I felt almost weightless.
"So what do you want?" I asked. "You and Sue got away with something. I was a character in her book. I'm not sure what she got away with, but something happened and you must have been causing something to happen. Or else you wouldn't be here with my phone number in your pocket. So what about Bergen? What about anybody? What the hell went on?"
"The answers are all there Jome. Your problem is that there are no questions."
"So what do you want, Bruckner?"
Looking at me, he puzzled over how he was going to phrase it. "I thought you should know about her manuscript," he finally said. "And I also wanted to tell you how bad of a private investigator you are."
He curled his mouth into a smile that didn't spread to the rest of his face.
Halfway out the door, yanking up his umbrella, he turned and asked too pleasantly: "Is it ever going to stop raining?"
The horny couple was staring at me and they were frightened at what they saw. I followed Bruckner out to the drenched street. Lightning burned the sky a crimson blush.
It was never going to stop raining.
I had Sue's manuscript in my hands, and I raised it above me to shield off some of the downpour. I wasn't going anywhere, if I ever had been.
Another flash of lightning exposed Bruckner conferring with someone under an archway. I couldn't see who it was. I took a handkerchief out of my pocket and daubed my cheeks and forehead. I looked at the handkerchief and saw that it was moistened with wet gray ink. The manuscript's print was dripping all over me and I choked a little on the ink as it swept into my mouth.
No, it wasn't ever going to stop raining.
Standing there soaking on the stoop of the diner I imagined the oceans and the rivers and reservoirs outside of town that nourished the city all breaking loose and ripping apart and absorbing the brick facades and the embellished cornices and the stairwells and small sports cars and vending carts and street signs and deck chairs and expensive dresses. I realized that I hated everything that had ever been. Because it was not going to stop raining.
I conjured an image of my suit and the image wouldn't leave me. It was a flawless suit, and in my pondering it fit me better than my skin. I wanted that suit.
I walked and walked and there were low voices all around me in the night. Soon I was in front of my tailor's and my rage was ballooning. His basement shop was brightly lit. I let myself in through the front door and descended the stairs. The room was inhabited by five or six faceless mannequins in various postures. Cramm had his back to me in a monogrammed bathrobe, his black hair disheveled.
"Where's my suit, Cramm?" I asked, startled by the ferocity in my voice.
He spun around and backed up into one of the mannequins, dropping a piece of chalk. One of the figures was wearing what I imagined my gray suit to look like, white lines running up and down the sleeves and pants.
"It looks pretty done to me," I said.
"Almost, sure," Cramm said, fear set in his dark eyes. After a second he said, "The cuffs aren't sewn on yet."
I advanced toward him. "I don't give a damn about the cuffs. I never figured you to be this kind of person, Cramm. I'm disappointed."
"Sorry," he said. "But the suit is not done."
Cramm was shaking when I went by him and tilted my head at the suit. The fabric was satiny. I hadn't seen a better suit, even considering the white tracings. This suit was the clothier's version of a ballad.
The tailor was crying and going for the staircase slowly. I pulled the pistol and fired, and the shot caught him in the hip and he fell behind some cardboard boxes.
I lifted the three-piece job off the mannequin and stripped, putting the rain-blanked manuscript on a stool. Removed my pants and jacket and slipped into the smooth seersucker I'd been waiting for. The fit was grand. I took the manuscript and passed Cramm clawing at the bottom stair.
"What's all this for?" he said.
"For not having my suit done faster."
"The cuffs still need to be measured," he said weakly, and then I think he died.
"I like it how it is," I said.
Soon I was under a streetlight and some men were scurrying around the dark buildings. I turned down an alleyway, glancing back to see some fellow entering Cramm's shop and gesturing for others.
I felt better with the suit on.
A sirocco wind had sprung up and the bridge swayed over the river, and the river smelled of beached fish and that peculiar lachrymose pungency that water gives off before dawn. It was 4:20. I hadn't been to my apartment. Hadn't slept in how many days I couldn't remember.
There was a barge somewhere off in the night. Foghorns throttled out every few seconds like a slow, dense clock. The bridge was empty of pedestrians and vehicles, the parapet below shaded by trees, the starless-ness of the sky jumpy with accumulating storms. I put two hands on the metal supports and whistled. I hadn't whistled in a while. The resonance across the harbor was like some lost lullaby repeated from someone I'd never met. I whistled and whistled, a whistling maniac standing on a bridge. Wearing a fresh suit.
I held out my palms. It wasn't raining anymore. I was glad. I was so glad I upped the volume of my dirge.
And then I wasn't whistling anymore.
Chapter 40
The same is true for the end of a story as it is for the beginning: where do you say it's done? At the moment all of the various stupid actions make fate inevitable? That moment, however, could have been all along.
Endings are always the same because they're usually not the same.
Below me, the river clashed with the pale banks, flooded onto the grass of a park. The night was a everywhere.
The ending could have been a batch of spotlights from the north side of the bridge, and the anomalous quietude of daylight shining through the darkness.
Could have been the silence of the men holding the spotlights steady and the displaced whispers of their supervisors.
Or Cowper materializing out of the spotlight, the way you can tell by his posture that he's serious. Bent cigarette held in between his lips that looked as though he'd forgotten about it since last he'd visited me.
Any ending could be what he said to me on the bridge.
"Why'd you do it, Jome? All those people? Any reason whatsoever?"
Could have been my response, that maybe I was just frustrated with the whole goddamn idea. "I haven't slept too well lately," I said. "If only you understand how much of this I don't understand."
The end could have been the rain slaloming off Cowper's hat or the men behind Cowper who were giving themselves shapes in the spotlight.
Suddenly I felt the great thrill of feeling nothing and the feeling was good. And that would have been a partly decent ending.
Cowper approached casually, as though we'd planned to meet here. Some of the men were close behind him. Now that I had my suit on I was ready, and it didn't matter that the suit wasn't finished. I pulled myself onto the bridge's railing, head lowered to the clamorous river.
The end could have been that I didn't care, or it could have been something as simple as a nod, because these kinds of things usually end on a bridge.
END
PECK is among more than 40 writers featured in our 2011 10th-anniversary anthology, All Hands On: THE2NDHAND After 10. "Last Orchard…" is his first book-length work of prose.