We've got work to do, with a daylong festival in Nashville on Saturday, a drive to Chicago on Sunday for readings Monday and Tuesday evening at Quimby's and Hungry Brain, respectively, then back Wednesday. It's all in the name of celebration of 10 and more years of writing published in these halls, which makes it sweet indeed. Below is a listing of the events upcoming, with links to
more information for those interested. Hope to see you out at one.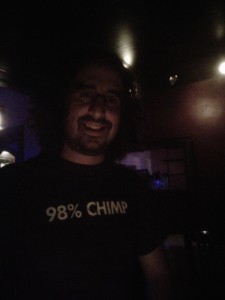 And here's a picture from All Hands On's first Chicago date this past Monday — with featured writers Lauren Pretnar, Heather Palmer and Mike Zapata at Katerina's on Irving Park Road. Jacob Knabb snapped it, of Zapata wearing a most apropos t-shirt for a T2H event, I'd say. Apes unite!
EVENTS UPCOMING:
NASHVILLE: Saturday, Oct. 1, 10 a.m.-5 p.m.: Handmade and Bound Zine Festival, Watkins College of Art & Design, 2298 Rosa L. Parks Blvd., Nashville, TN. THE2NDHAND will be tabling with the new book and a new broadsheet and editor Todd Dills will be giving a workshop tour through THE2NDHAND's history in a practical, conception-to-nuts-and-bolts-type program titled "Toward a self-sufficient, long-lived zine", 12:30 in room 503: http://handmadeboundnashville.com
CHICAGO: Monday, Oct. 3, 7 p.m.: All Hands On released at Quimby's Books, 1854 W. North Ave., Chicago, featuring AHO contributors Jonathan Messinger (Time Out books editor, Featherproof publisher, Hiding Out author), Jill Summers and Kate Duva, as well as THE2NDHAND editor Todd Dills: http://the2ndhand.com/THE2NDHANDTXT/all-hands-on-launched-at-quimbys-oct-3/
CHICAGO: Tuesday, Oct. 4, 8:30 p.m.: All Hands On @ So You Think You Have Nerves of Steel?, THE2NDHAND's monthly variety show at Hungry Brain, 2319 W. Belmont, Chicago. This month's installment brings together longtime THE2NDHANDers with new faces, featuring AHO contributors Joe Meno (The Great Perhaps, Hairstyles of the Damned), Rob Funderburk (visual artist/designer, formerly THE2NDHAND's design man), THE2NDHAND coeditor C.T. Ballentine, editor Todd Dills, Fred Sasaki and Marc Baez. Also featuring Chicago writer Matt Pine, music by Young Coconut, and Nerves host Harold Ray: http://the2ndhand.com/THE2NDHANDTXT/nerves-of-steels-special-all-hands-on-edition-tuesday-oct-4/