T2Hers, a couple-few bits of news to share today: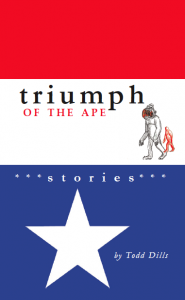 1. Triumph of the Ape, the story collection I released as an ebook-only affair last year and then rather quietly took to print earlier this year is now on a run on Kickstarter to raise money to fund an initial sizable print run. You can contribute to the campaign — $12 level gets you the book and there are several other rewards, from past books of mine to THE2NDHAND's past big anthologies (All Hands On, 2004, 2011) — via this link. Thanks in advance if you do! It'll be live through  around the end of June.
2. In the interim, for any writers out there: I do have a limited number of print review copies (as well as ebook versions) that are available should you be able to place a review someplace (or simply devote a blog post to the book).
3. Finally, Nashville folks, there's also a reading Tuesday (May 21) where I'd love to see you in attendance! I'll be reading a bit from the book. Find more details about all of this in the release-type text below, or in a new essay I wrote for the Tennessee Humanities' Chapter 16 lit/review site here.
May 21 marks the first of the readings Todd Dills will be doing in support of Triumph of the Ape. In Nashville, Tenn., where he currently lives, he joins songwriter Mike Willis (of the great and awesome Cumberland Collective — you can check out my odd fictional paean to the group here) and East Side Storytelling host Chuck Beard at Fat Bottom Brewery, 900 Main Street, in East Nashville at 7 p.m. The reading and performance will be recorded and broadcast on Nashville' WAMB radio, 1200 AM and 99.3 FM, at 2 p.m. the following Saturday.
This year's Chicago snowmageddon, I'm happy to note, didn't outrank my personal midwest winter initiation. After moving to the Chi in the fall of 1998 from the humid climes of Rock Hill, S.C., come the holidays I was back in S.C. but left early. A blizzard was predicted, see, and I was to start a new job Jan. 2 in Evanston, of all places. I motored back to Chicago in time for New Year's Eve, as the snow began sometime early the next morning, not stopping for the next 24 hours. I was at that new job the following day, a near-four-hour public transit nightmare (never been so damn cold in my life, standing hopping foot to foot on the platform at Diversey, running in place, etc. etc.). That, friends, still sits in the history books as the No. 2 biggest Chicago snow, hell of an initiation rite for a Southerner. I have nerves of steel. Nah, but 'twas a great time to pretend.
Fortunately, in 1999 THE2NDHAND was just beginning to rise in my brain — we wouldn't launch for another year — and there were no readings to cancel.  Our Nerves of Steel event last Tuesday coincided directly with the worst of the recent white torment, and we unfortunately had to cancel as participants, well, faced travel nightmares to and from the Hungry Brain. We'll be featuring all — Tomorrow Kings, Mairead Case, Marc Baez and more — in upcoming installments of the event, we hope, the next one to take place March 1.
Meantime, disheartened by the decidedly un-nervy cancellation, Chicago writer Mason Johnson reportedly had his own "Mason Johnson has Nerves of Steel" extravaganza at Moe's on the northwest side (Central Park and Milwaukee).  Check out the partial results.
ALL HANDS ON
The final day to preorder a copy of All Hands On: THE2NDHAND After 10 (our 10th-anniversary reader) via our Kickstarter campaign is Feb. 16. Reserve your copy. Sometime on the evening of Wednesday, Jan. 26, we hit the funding goal, so barring a disaster the project's a go. Among features will be  special-section author illustrations, some of which are leaked below, in process, by former THE2NDHAND design man Rob Funderburk — my favorite working painter, no doubt, and one of my favorite illustrators
(he's also a longtime and great friend, of course). Working from photos in many cases (most of the subjects he's trying capture in portraits he's never met), he's been experimenting with all manner of techniques on these, as you can see. The technique behind the Michael Peck il Rob describes this way: "Laid paper over source photos on a lightbox, used flat side v. pointy corner of a graphite stick to render." Makes it sounds simple, right?
Pretty stunning preliminary results, I'll say. Find more from Rob's illustration, painting and mural work, as well as framed watercolors and maquettes and a screen-printed study of the Chicago Rookery building, at robfunderburk.com. Or read his blog.
MICHAEL PECK
AND NASHVILLE, TAKE HEED
ANNIVERSARY CELEBRATION THIS COMING WEEKEND.
THE2NDHAND anniversary celebration | 11 years to the day after our first-ever release party
Saturday, Feb. 12, 7 p.m.
@ Portland Brew, 1921 Eastland Ave., Nashville, Tenn.
THE2NDHAND AFTER 10: A NASHVILLE READING Four days before the end of ourKickstarter.com campaign to raise $2,000 to print our 10th-anniversary anthology, All Hands On, THE2NDHAND's editors and contributors gather at this event to present new writing and work to be published in the book, with performances by:
*T2H shapeshifting collaborative writing crew of the Pitchfork Battalion
*T2H Louisville, Ky.-based coeditor C.T. Ballentine (whose "Friedrich Nietzsche Waits for a Date" novella is featured in its entirety in the All Hands On book)
*Birmingham-based Nadria Tucker, a frequent T2H contributor, with a special section in the book
*Nashville's own Matt Cahan, whose "Coyote Business," a short exploring the cultural connections between Mexico and the United States excerpted from his "Straight Commission" novel in progress, via the tale of a group of would-be Mexican migrants and a U.S. chemical salesman, is among new work featured in AHO
*Susannah Felts, Nashville-based author of the novel This Will Go Down on Your Permanent Record
*Nashville-based Henry Ronan-Daniell
Nashville-based wood-block printmaker Martin Cadieux will be on-hand showcasing his print work for THE2NDHAND's Kickstarter campaign, among other work.
If you haven't in the recent past, take a moment to page back through the installments of Indianapolis/Bloomington, Ind.-based comix artist and ceramicist Andrew Davis' "Hideous Bounty" series.
The latest edition, "Sea Snake" (pictured here) is live. Davis cut his artistic teeth in a grad program in Northwest Pennsylvania after a childhood and undergraduate work in South Carolina, where we shared an apartment for a brief time. He inked the original comic to appear in THE2NDHAND's first broadsheets — the adventures of one "Billy Clockout," a young loser bumbling his way through a bizarre existence with a very large rabbit-human for a girlfriend — and the "Hideous Bounty" series was launched way back in 2004, during the arguable height of American messianic tendencies, as the "Antipupose Driven Life." And I quote:
The Oath of Antipurpose
1) Create your own chemicals or use already existing ones.
2) Have five cats or have none.
3) Watch the sun rise or sleep in.
4) Fight or make love.

5) We must repeat.
Davis' illustrations also show up in THE2NDHAND no. 35, our latest broadsheet, which showcases new work from All Hands On, where his work will be featured prominently.
Last week, we passed the halfway point in our fund drive at Kickstarter.com for the AHO book, marking THE2NDHAND's 10th anniversary. Check out the video on our Kickstarter main page for several close-up stills of Davis' past Billy Clockout comics.
****
And hey, Harold Ray made Chicago weekly New City and other papers this week, in stories about the So You
Think You Have Nerves of Steel? event upcoming Tuesday, Dec. 7, next week, which features among others broadsheet no. 35 writer Michael Zapata, AHO contributors Spencer Dew and event chost Kate Duva and many others. Ray (aka T2H coeditor and ACM fiction editor Jacob Knabb) talked with New City's Kristine Sherred about the event's genesis about a year ago in the mind of coeditor C.T. Ballentine as well as, well, the Kickstarter pledge campaign. . . T2H partisans, thanks for all the support in that endeavor thus far. Keep the word moving out there, and a big thanks, again, to all who've laid down preorders and contributed thus far. If you haven't, go for it.