In the last installment of Peck's noir, published in serial here in THE2NDHAND txt, private eye Harry Jome was making good progress on identifying the private eyes/goons tailing him, all as his "case," the suicide of Ben Bergen and the curiosity of the Longtree family, gets ever more murky. Herein we learn something significant about Jome's past — from none other than Sue Longtree herself…
Download "Last Orchard" .doc for your eReader (check back periodically — the file will be updated as new installments become available).
Chapter 20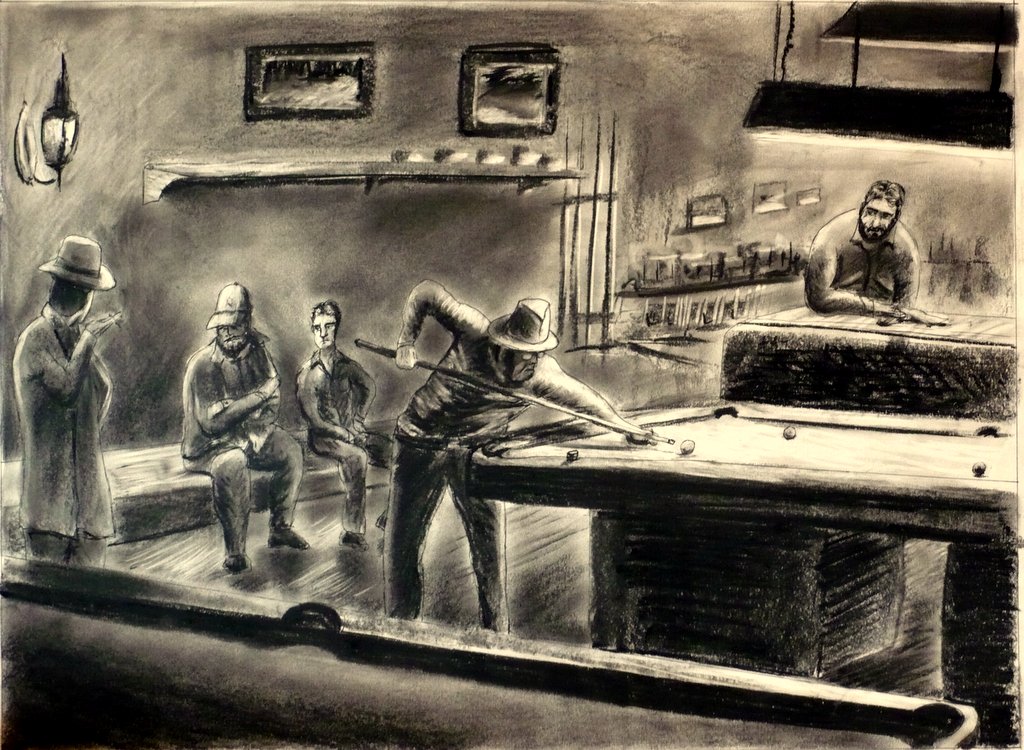 There were a few worthless characters in Daim's, ensconced in the crosshatched shadows surrounding the nine or ten tables. Felt and leather pockets shone in the meager light, and the floors were scrubbed with blue chalk and talcum powder. Behind a glass-topped counter that wasn't filled with anything a grizzled guy in coveralls was playing with a penknife. He snapped the knife closed when he saw me and picked at his beard.
I'd been inside Daim's three or four times for a couple of games on a job once, a minor marital squabble that netted a few dollars and not much else. Wes Daim, a stagnant guy in his mid-fifties who had done nothing but smile constantly and looked like he might implode at any moment from some inside joke. What impressed me about the place was the enigma of the farthest table in the rear. It was roped off and marked with a sign that read Do Not Touch. Only four balls were on the table, the eight ball, a solid and a high stripe, all lined up against the same rail, with the cue near the center of the red felt. I'd asked Wes about the unfinished game and he had mumbled something about an interruption eight years ago, and had walked into the bathroom and come out red-eyed, not wearing the fake smile he had gone in wearing. I didn't pry anymore into it, nor had I been in there since.
Wes didn't own the joint anymore, and the guy in coveralls was not nearly as friendly, or friendly at all.
"Someone named Lewishom comes around here," I said to him.
The old guy pried some glue off the glass.
"You came in here just to tell me that?" he asked, not looking at me.
"It was more like a question. His name is Lewishom."
Out of the shadows a glum kid of eighteen or less sidled up to the old man with a pool stick.
"Lewishom isn't here just now," the kid said.
"You have good ears," I said.
"People at school tell me that all the time." The kid relaxed his grip on the stick.
"You know Lewishom pretty well?" I asked.
"Yeah, he's my uncle," the kid said. "He's a good guy. I think he would wonder what you want."
"He would wonder that," the bearded man agreed.
"I need to tell him what I want."
Pool balls clanked together behind me, whispers coming from the back.
"He won't be back for a few days. He's away," the kid said.
"Where is he away?"
The kid and the beard glanced at one another.
"We'll tell him you stopped by," the beard said.
"Who should I tell him was looking for him?" the kid asked.
"I'll tell him myself," I said. "Where do you suppose I can get to your uncle?"
The kid let his eyes wander over to the proprietor's and the bearded man gave a slight nod.
"At the burlesque club," the kid said.
"Which one?"
The bearded man said, condescendingly, which didn't seem to be his nature, "The only burlesque club in town."
The kid gave me an address on 27th Street, and I hustled over, soaking my ankles in a series of puddles as I ran. I was going to get something fresh out of Lewishom.
The joint was called Shays Burlesque and would have been a useful definition of chintz. Polished dance floor covered with tables and chairs, booth-lined walls with candles running the length of a built-in shelf, and a dark wood bar that could accommodate nine or ten individuals. Dangling above the bar was a chaotic fixture of jagged, translucent shards that filtered a reddish light onto the rows of upscale liquor. For all of its glitter Shays was the opposite of dazzling. Besides Lewishom, easily identified by his tattered blue sweater and sitting in a booth close to the stage, the place was deserted.
I pulled up a stool and sat at the bar, ordered a club soda from a bartender who was obviously drunk. "We used to have 12 girls doing five shows a night," he said, holding my five dollar bill out and scrutinizing it. On his forearm a violin was tattooed.
"How many girls you got now?" I asked.
"Still 12. But it ain't the same."
"What's that symbolize?" I asked, pointing at the ink on his arm.
"A violin," he said, and went to the mirror and started disarranging the bottles there.
By the stage Lewishom was bent at his table; he pinched out the candle's flame in front of him, relit the candle with a lighter at his elbow and snuffed it out again.
At five after five the show started. Twelve girls pranced onstage wearing black corsets and white stockings and garters. Their moves might have been burlesque, but they just looked disordered and tired. A stocky man to the right was beating on a piano and a tall blond fellow was behind, wearing a dumb expression, and slapping his upright bass like he'd had a long-standing grudge against the instrument. The whole thing was amateur and the routine just made me sadder than I could have ever been at the moment.
All the while Lewishom was twisting his head, apparently following one of the girls with his eyes. From where I sat I couldn't tell which one, and even if I could, the garish spotlight drained every girl of any personal features.
The show lasted a half hour with no break and the girls danced off the stage while the musicians struggled to finish the song.
Lewishom stood uncertainly and headed out a side door marked THIS IS NO EXIT. I went out the front. On my way the bartender raised his arm and showed me his tattoo again. I circled the building, grappled through a wet crowd and reached the alleyway. Lewishom was already talking to one of the girls while he shed the ash of a cigarette onto his shoe, and finally dropped the butt and stamped on it forcefully.
The girl was in a tan raincoat and I could see by her visible stockings that she hadn't changed after the act. She was olive-complexioned and plump, a red silk scarf on her head.
I crouched beside a dumpster, close enough that I could hear Lewishom's frantic talk and the girl's coolly supercilious replies. In a couple of minutes it was so rainy I was getting used to being wet.
"Must be cold in that," Lewishom said softly.
"What do you want?"
"I want to buy you a drink and take you somewhere warm."
"I already told you no. I tell you every night and you keep not listening. You're here every day."
"But you haven't told me no tonight yet."
A pause.
Lewishom continued. "I've never seen you in the daytime, you know that? I bet you look good over a plate of toast."
"You're creepy," she said after a minute. "I'm going to have a drink all right, just not with you."
"I've got some money and I'm going to leave her once this thing is taken care of."
"I don't want you to leave her; she'll be almost upset or something."
"She's always almost upset. But I'm telling you, the second this thing is over we could travel away somewhere."
Silence.
"I don't understand," Lewishom said, much louder now. "How you can be so–"
"Because it's fun," she said and giggled.
"It's not fun for me."
"That's why it's fun for me."
All of a sudden I heard the door creak open and someone exit the club. A few distraught whispers ensued. The girl and a blond man wheeling a huge music case went by me without noticing that I was there. She had the musician's arm.
Leaving my spot behind the stink of the dumpster I saw that Lewishom was still rooted to the spot, shaking the rain out of his cuffs and just looking miserable, illuminated by a spazzing bulb above the door. He looked at me and walked back inside the club without bothering to look at me again and I decided to let my questions drop for the moment.
Chapter 21
I was exhausted all over but couldn't fall asleep till about five on Sunday morning, on the semicircular sofa in my living room. I was staring at the ceiling like it was etched with some of the answers I wasn't getting, falling into dumb dreams about childhood and snowfalls and Sue Longtree, waking every few seconds in a sweat. My dreams were taunting me. I dreamt of everything but it was all the same. I was ready, alert. Sounds that didn't bother me now bothered me. The quiet yearning street beyond the window with the infrequent car horn. The off-kilter ticking of the clock. The interminable tapping of faucets competing for annoyance.
When I came out of the last menacing dream I was on the floor and Sue Longtree was bending over to shake me. I tried pinching the ceiling. Sue replaced a pillow that had tumbled off the sofa.
"Don't leave your door unlocked," she said.
"What the hell do you want? I haven't been sleeping too well."
We sat next to each other on the sofa. I ironed the fatigue out of my eyes with my thumbs. I was morose and hot.
"You leave a trail of cynicism wherever you go," she said.
"And so what do you want?"
"Nothing much. It's Sunday."
"What's so great about Sunday?"
I saw that she was wearing a nice-fitting pencil skirt, her lipstick hyper-realistic against the  rest of the picture.
"I know you'll tell me how you found me," I said.
"A phone book."
"Rich people don't own phone books."
"I do, and that's how I found you."
"I'm still not convinced you own a phone book. Invite me over sometime and prove it."
"Do you own a phone book, Mr. Jome, or do you just dial women at random?"
"I can't afford luxuries."
"You can now."
"Now it's too late." I started to get up but she put a hand on my thigh, enough to quit thinking about getting up ever again.
"Too late for what?" she asked, digging around in her purse for a cigarette.
"All the numbers I need belong to people I don't need. Mostly them, or their ex-wives or my ex-wives."
"At least they're in the plural."
"Most awful things are."
She tapped the cigarette on her right knee, or rather the stocking that covered it. Her hair looked good. Indecent snapshots of her body kept me busy while she lit the cigarette: slim breasts, protruding bottom, a swath of pubic hair kept neat and trimmed like a railroad track. A gold Zippo flicked in her palm with a little ruby lodged in the side.
"I don't believe," she said, "that you can be so dramatic."
I crawled out of the gutter in my mind and said: "Anyway. What are you here for?"
"I'm here to have a conversation with you." She blew smoke off to the side. "What is it exactly you do?" she asked.
"This."
"What else? Where'd you come from?"
"Well, I was young and pretty soon I was older and what happened in between makes no sense to me and won't to you either. I studied medieval philosophy in college, learned just enough to twist any thought I could ever have, married twice and divorced twice. I spend at least three hours a day wishing I was doing doing something else than what I'm doing." I leaned closer to her and she didn't object. "I have a deep, almost religious disinterest in everything and the world treats me the same."
"You're interested in me, though."
"My interest is piqued."
"I think something else is piqued too."
"I also get excited when I watch a tarantula in a glass cage."
"Is that what I remind you of?"
"No, but a tarantula in a glass cage always reminds me of you now."
She smoked in short, abrupt puffs, holding the cigarette close to her eyes.
"Does it?" she whispered.
"I think so," I said. "I forgot the question."
With the cigarette she was doing something more than smoking. The pursing of her lips and the strange eyes when she inhaled were about as distracting as a kid on a tractor.
"Do you mind if I smoke?" she suddenly asked.
"Not at all. Just somewhere else."
She grinned weakly and stood, sliding on those fat sunglasses. It was the kind of face that would make you starve to death at a buffet.
"Then I'm afraid," she said curtly, "that I have an appointment somewhere. Why don't you want to come over tomorrow night?"
"You say it like you've already asked me. Will Parker and Porter be there?"
"Who're they?" she asked.
I grinned wide. "Nobody."
"You're so smart you're almost moronic. Pick me up at 7:30 tomorrow, and if you're late, pick me up after that. But a string quartet is playing and I'd rather not miss it. At least not the Schubert."
She dropped her cigarette into a glass of water on the coffee-table, watching it float there with obvious pleasure.
"I wouldn't have pegged you for a Schubert fan. More in the Wagner line or somebody like that."
"He's the only one I know," she said. "I don't have the energy for that kind of thing."
She fired up another cigarette while she was in the doorway.
"What do you have the energy for?" I asked.
"Nothing much," she said. "But I'm learning."
She lingered there in the doorway, pouting at me.
"How did you find out about me, anyway?" I asked. I sat up a bit on the sofa, not taking my eyes off her for an instant.
"I wasn't kidding about the phone book," she said.
"I mean altogether. How and why did you find me in the first place?"
"The first place was the first place I looked." Sue didn't smile and if it was possible for a joke to be remorseful hers was. "I researched you," she said.
"Am I very engrossing?"
Her answer was an ambiguous scrunch of the shoulders. "You've had some trouble, so I guess that makes you entangled. And sad is another of your tendencies. I've had trouble, too," she said, leaning on the doorframe. "So we're close, Harry."
"What did you find out about me?"
Sue spent the second cigarette, mashed it on the hallway floor, and put another in her mouth. This one she didn't ignite.
"Not much," she said. "Just a lot."
"There isn't a lot about me."
"There's enough to get a vague picture."
"But I don't like being photographed."
Sue looked beyond me. "You spent some months in an institution right after you finished college," she said, and her eyes found me, and there was glee in them, at how uneasy she was making me. "What were you in for?"
I got up and wiped some dust off the bookshelf.
"What were you in for?" she asked again.
I kept dusting, finally said, "I flailed when I got into the world. Some people flail, and I flailed and I didn't know what I was supposed to do. How'd you find out about that?"
She glossed over what I had said.
"And then you're a private investigator all of a sudden."
I didn't appreciate the way she was talking, but she hadn't said anything untrue.
"What happened in the madhouse?" she asked.
"Madness."
"I know, and that's why I hired you. Wasn't that your question? We're both a tad crazy." Sue was whirling the cigarette in her hand anxiously. "There's three kinds of people," she went on, watching the movement. "Those who need to be coddled; the ones who want to be pushed away; and lastly, the kind you aren't so sure about."
"Which one are you?" I asked.
"I'm not so sure."
"People like to make generalizations," I said. "About other people. Not about themselves though."
"Like that?" she asked. There was a very faint, very cute dimple on her left cheek. Our gazes were tightly fixed on each other.
"Just like that," I said.
Sue Longtree dropped her cigarette and walked a heel over it without having lit it. I swiped away another ball of dust and when I looked at the doorway the doorway was empty.
Out the window I watched her cross the courtyard and nod at a man with no hat sitting hunched on the bench in a loud blue sweater. Her bright umbrella faded away, blurred by colorful awnings and vendor's carts.
I returned to the sofa and sat there till 10:30, so tired I wasn't tired in the least, wondering what I was going to wear that night and feeling sour that my suit wasn't ready yet.
I shaved diligently, nicking myself in several spots, threw on a bit of some aftershave. According to the mirror I was not looking grand. Now that I was moving around I was more tired than ever, in that hazy limbo between sleep and wakefulness that was quickly becoming for me a disreputably sustained present.
Chapter 22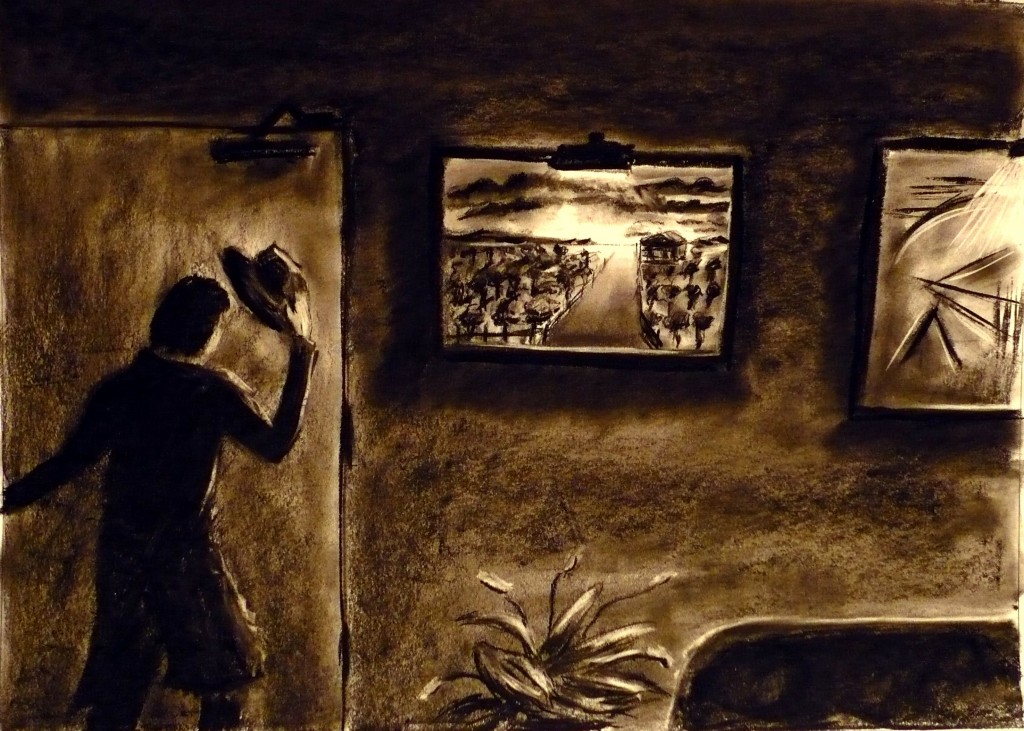 The rest of Sunday I floated around the apartment, wasting time cleaning, drinking coffee and talking to myself. I took a short walk in the rain, but I couldn't outpace the compulsion to see Sue Longtree. I missed her and it was peculiar, insofar as I didn't even like her very much.
Sunday evening had no sleep for me, and the rain was a score to my insomnia — propulsive, horrible, desperate. I tossed in bed until 5:15, flopping into a dream and back out with an irregular onrush of frenetic dreams, unsure whether they were dreams or fragments, indications, of a new reality. The world outside was morphing into all the dreams I wasn't having, as nagging as a hangover. I was down, and rather than simply picking myself up I was digging down further.
I wasn't sure when I'd quit sleeping, nor could I recall a night where I'd slept more than an hour. The long minutes drooled by — sweating, crazy fierce things. I had no one to be upset with. Because I couldn't sleep I was also unable to wake.
For some foolish reason I was expecting dawn, sunlight, chirping birds and all the rest. But the rain was perpetual and the external city had the veneer of polished silver and bronze. I dragged myself out of bed and dressed.
The city was hazing over and the dirty streets were becoming less populous, fog and rain determining the shapes of landmarks. It was a little after 4:30 and I was levitating alone in a hushing elevator that blew dull music and belonged to the company that employed another William Florence.
On the 29th floor the doors clicked and parted and I was standing in a reception room of the Allied Insurance Company. The outfit controlled the whole floor, and the waiting area was shiny and transparent; some designer had gone to a lot of trouble to make the place as uninviting as possible. Shards of jagged white glass hung from the ceiling. Likewise, the walls were dark and quite glossy. All in all the place was nothing but perfect lines and zero decoration.
Behind a modernist desk a pouting secretary with too much indifference and a neat bob in her brown hair was polishing her wedding ring with a tiny scrap of cotton.
"I'm here to speak with William Florence," I said.
"Not here," she said, continuing to scrub.
"Where can I find him?"
"Not in here," she said.
"Another address? He's gone for the day?"
"Look," and her eyes swept over me quickly. "He's not here. Is there something I can do about his not being here?"
"There is, but it's not a nice thing to say to a woman."
She seemed to enjoy being insulted and smiled wanly at me with a big, white mouth, and stuck the wedding band on her index finger. Before pushing at the intercom button she was already talking into it.
"Mr. Perle. Someone for Mr. Florence."
In another room a man's subdued voice calmly replied from two places at once. "Is this gentleman a client?"
"She looked at me questioningly. I nodded and winked at her and she nodded and winked back.
"He says that he is."
"Seven minutes," the man said. "No. Eight minutes and show him in."
"This Perle is very particular," I said, checking my watch.
"Mr. Perle is very particular."
"That's quite the ring," I said, pointing at the diamonds. "You have some fellow who has you all to himself?"
"This is my sister's ring and her husband is an engineer. She lets me borrow it when he's working on weekdays."
"Why would you need that?"
"It worked with you."
"I'm easy though."
"All fellows are easy. Just smile and pretend like they're too smart and they'll do anything."
"You got it right," I said.
"You can sit over there," she said without specifying where. "Mr. Perle is very particular."
I stuck my hands in my trouser pockets and circuited the room. There was no sign of any chairs, or anything remotely relevant to insurance. Diplomas were archly displayed on the black walls like carcasses in a butcher shop. Photos of company parties and outings attached with rectangular captions explaining where they were taken and who was in the picture.
Laguna Beach. Mr and Mrs. Fred Schiller on a twin paddle boat.
Juneau. Mr. Perle and Mr. Freely enjoy a discussion and a schnapps onboard the U.S.S. Scuttlefish.
Toronto. Mr. Shumley, McDaniels and Peterman at the top of the CN Tower.
Next to these ostentatious example was a list of organizations that had benefited from Ally's money-grubbing. A few feet down the wall, frames bearing senators and actors embracing Ally spokespeople and executives in warm poses.
In most of the pictures where he appeared Perle exhibited as a sallow and serious dark-haired man keen on anonymity, unaware that he was being photographed.
The intercom crackled.
"Tell him to come in," Perle said.
"You can go in," the secretary said.
"Thanks, you've been real swell about it," I said.
I stepped through a tinted glass door that she held.
"First door on the left," she murmured and withdrew.
I didn't knock.
Perle's office was expansive and burgundy and neat. Modernist paintings and landscapes lined the wall without any distinction of style or period. Perle was sitting forward on a leather settee, his serious, uncompromising face following me across the room. Wire-rimmed spectacles sat on the top of his brownish gray head. The nickel railheads of the settee shone fantastically in the track lights. Perle's hands were pure white, and the tight-fitting tan suit was so well pressed he looked naked.
"I appreciate you seeing me," I said.
Perle's solemn face didn't do anything.
"How's the insurance business?" I asked.
He stirred finally, and when it dawned on him that he might have to speak, he said in a clean voice: "The insurance business has been doing remarkably well throughout history." He studied my rainy shoes. "Are you a client of ours?"
"Not in the technical sense."
"Then in what sense, please?"
"I'm a private investigator and I'm looking into the Longtree family. Ben Bergen specifically. Know him?"
I waited for a response, or some kind of reaction but Perle was inscrutable. His expression was as undemonstrative as a sack full of drab neckties. "Is there a question in that babble?" he asked. He looked at the clock on his desk.
"You have four minutes and you can begin with a name." His eyes roamed.
"It's Jome and I'm wondering if a man named Florence is around."
"He was. One of the consultants for Ally."
"What happened?"
"He doesn't work here anymore."
"Then what happened?"
Perle squinted deeply.
"Let's just say he doesn't work here anymore."
"All right. He doesn't work here anymore. Why?"
"Mr. Jome, I believe you mentioned someone else's name that you are investigating. How is William involved in that?"
"Bergen used Florence's name?"
"And so?" What did this Bergen do? Did he rob a laundromat?" Perle grinned wolfishly, as though he'd just brought an audience to its knees.
"I don't know why Bergen would have used Florence's name unless they were close. Is Florence working on some assignment."
"You have one minute," Perle said, this time not even consulting the clock for justification.
"Why won't you tell me about Florence? What's the trouble?"
"Business is trouble."
"I'm not intruding."
"You are intruding and now since I have allowed my time to be wasted, I'm going to waste your time for a minute, Mr. Jome." He put the glasses on and aimed his eyes at me. "Do you have insurance? Everybody in the world needs insurance."
"I can think of one person who doesn't."
"Who would that be?"
"You." I stood and shook my head. "Not going to tell me anything about Florence?"
He stayed on the settee.
"Nobody told you?" he asked.
"Told me what?"
"That everything is a game. And if you don't know that, Mr. Jome, then you obviously aren't winning. It surprises me no one told you that."
"Maybe I heard it when I was researching an article called 'How to be Condescending'."
Perle's tight mouth tightened more.
"I like the way you are," he said.
"And I like the things you say. Thanks. Call me if you decide to feel right."
I was reaching for the door when I spotted it, mixed in with the other artwork. It was the drawing of the orchard that was in the Bergen place. All the lines and sloppiness of the thing were identical; it was unsigned.
"Who did that one?" I asked as Perle studied me studying the drawing.
"I have no idea."
"It's on your wall."
"When you're rich you can afford to be ignorant of modern art. You can have it if you want," Perle said.
I went back through the secretary's station. The girl was still polishing her sister's wedding ring.
"Get some fennel tea and a bottle of 90 percent," I said.
"Does that get tarnish off?"
"No. But it might take the edge off you."
TO BE CONTINUED…
PECK is among more than 40 writers featured in our 2011 10th-anniversary anthology, All Hands On: THE2NDHAND After 10. Order via this page.