T2Hers, a couple-few bits of news to share today: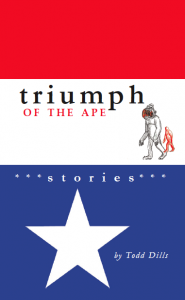 1. Triumph of the Ape, the story collection I released as an ebook-only affair last year and then rather quietly took to print earlier this year is now on a run on Kickstarter to raise money to fund an initial sizable print run. You can contribute to the campaign — $12 level gets you the book and there are several other rewards, from past books of mine to THE2NDHAND's past big anthologies (All Hands On, 2004, 2011) — via this link. Thanks in advance if you do! It'll be live through  around the end of June.
2. In the interim, for any writers out there: I do have a limited number of print review copies (as well as ebook versions) that are available should you be able to place a review someplace (or simply devote a blog post to the book).
3. Finally, Nashville folks, there's also a reading Tuesday (May 21) where I'd love to see you in attendance! I'll be reading a bit from the book. Find more details about all of this in the release-type text below, or in a new essay I wrote for the Tennessee Humanities' Chapter 16 lit/review site here.
May 21 marks the first of the readings Todd Dills will be doing in support of Triumph of the Ape. In Nashville, Tenn., where he currently lives, he joins songwriter Mike Willis (of the great and awesome Cumberland Collective — you can check out my odd fictional paean to the group here) and East Side Storytelling host Chuck Beard at Fat Bottom Brewery, 900 Main Street, in East Nashville at 7 p.m. The reading and performance will be recorded and broadcast on Nashville' WAMB radio, 1200 AM and 99.3 FM, at 2 p.m. the following Saturday.
Musicmaker Mike Willis, good friend of THE2NDHAND in our south co-HQ, proposed an idea not so long ago that now comes to fruition, an evening combining song and story toward a different sort of Music City listening room with interplay between genres..
On the first Friday of April, none other than the grand Fool's Day, we convene with Willis and other guests for the first such event, a couple hours' worth of shorts and music from 6:30 p.m. on at Casablanca Coffee in the Gulch. Join us:
Story/song @ Casablanca Coffee, 602 12th Avenue South, Nashville (615) 942-7666
FEATURING prose work by: Nashville writer/Keyhole magazine editor Gabe Durham and THE2NDHAND editor Todd Dills, sketch theater by the burgeoning Nashville No Shame Theater crew, featuring among others Lynn Edwards, Dean Shortland, and Marin Miller; and music by Mike Willis, Clay Evans (Nashville), Noah Collins (Chattanooga) and more.
Stop in, enjoy a hot brew or a beer and listen.