Down here at THE2NDHAND co-HQ in Birmingham, Alabama, surprises are rare, I say: we've got all the big-town problems, from bureaucratic lassitude to stupid uses of money to cost- and time-overruns on grandiose park plans to inflated petty and violent crime rates. But the last at least did spark a bit of a surprise recently, on a Tuesday evening in front of a woefully weak TV newscast, from which I learned, in case you haven't heard, that our city's mayor thinks I'm evil.
And not only me, of course. The honorable Mr. Larry Langford (the Birmingham mayor, not the Chicago Transit Authority spokesman) was speaking at a meeting of the city's councilors and notifying them of his order of 2,000 burlap sacks to be worn by city leaders at an upcoming "crime summit"/prayer meeting, the third or fourth in a series of meetings convened to the purpose of addressing the crime problem. The move, taking the now metaphorical "sackcloth and ashes" phrase into a present biblical reality, was nothing new for Langford, really. He's a man known for a sort of vaudevillian politics — high theatricality, if not theater. But it was one significant remark, delivered with a vituperative rage becoming of perhaps a fiery preacher denouncing gay folks from his pulpit, that branched out to include what I can't help but imagine to be a hefty portion of Langford's constituency. "The Constitution of the United States calls for a separation of church and state — it never said anything about a separation of church from state," Langford said. "You don't wanna pray? Fine. Just get your evil self away from me."
The key is "evil," of course. And the directive's not really a problem for most of us down here, considering that by common estimate Langford's downtown Birmingham loft is empty a majority of the time and the man actually lives outside of town in Fairfield, Ala. But it wasn't the directive so much as the sentiment contained therein that took my attention most strongly — the mayor spins the tactics of the old hate-mongering race baiters in a new direction with that "evil" designation, to my mind. It's hard, of course, to think otherwise when you're the target.
A coterie of similarly-minded folks showed up at the Friday, April 25, sackcloth summit to protest on grounds of constitutional church-state separation, among other things. Among them was a friend, Merrilee Challiss, owner of the great Bottletree café and venue in Avondale. "I think the reason I became so incensed," she says, "is because I saw a copy of the proclamation in person at the bar."
Said proclamation: a lesson in proofreading and unintentional double entendre that among other things in its first sentence throws the word pale into the unintelligible bucket (at the same time making the exact opposite comparison between Birmingham and Nineveh than was surely intended) and uses the apparently avant-garde statistical term "per capital." It's here if you need a good laugh.
When Challiss saw it, she says, "We, five of us, decided on the spur of the moment to go and protest." Here's a pic: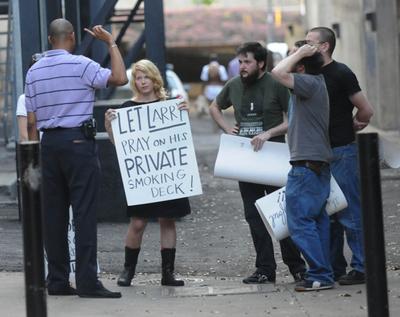 Challiss wrote a somewhat cheeky letter to the Mayor's office voicing her consternation as well, and while it may have been a blatant invitation for the big brush-off, what she received in reply was strangely poetic, and ominously unsigned:
God must have done
Something mighty bad
To some people in this town to respond the way they do to him.
There is only one King.
His name is JESUS.
Another letter writer received a similarly versifying reply to his more pointed criticisms of the mayor's office:
I don't know where you got your facts from, and do not care.
Whatever your problem is please keep it to youself.
The tone of your e-mail speaks for itself.
There isn't a word of truth. Behind your Agenda.
Please don't bother
To respond because
I will not, but know this, sooner or later
The messanger won't
Matter only the message.
There is something messianic in all of this crypto politicking — or whatever you'd call it. The mayor's office runs itself on its own sword, or stabs itself in the jugular with a blunt edge of computer keyboard, as the case may be. The upshot: one hopes for one's elected leaders, whether one voted for them or not, to rise above the sort of personal communicative idiocy most of us spend our daily lives engaged in with friends and enemies. At the tail (tale?) end of the Bush era, though, I suppose that hope might be best dubbed a pipe dream. Divide and conquer is the preferred strategy, or at least stay the course though law and seeming prudent behavior in the arena of electoral politics would suggest otherwise. World, welcome to Birmingham.
Among the few journalists to comment on this particular idiocy and, at last, the irony of the entire situation king of kings Langford finds himself in these days was John Archibald at Birmingham News Archiblog in his April 24 Park drips with irony, intolerance post, in which he made hay over Langford's concurrent urging of Birmingham residents to "save" in a PR campaign whose irony was lost on the North Carolina PR consultants who engineered it (Chicago peeps and others: Jefferson County, Alabama, is on the verge of becoming a wholesale nightmare bankruptcy proceeding). But he also delved into Langford's guilt by proffered association with gay-hating Georgia televangelist Bishop Eddie Long, who Langford said would be donning the burlap sack that Friday.
Surprising? I guess not, but as the Securities and Exchange Commission continues its investigation into Langford's alleged financial misdeeds during his tenure on the Jefferson County Commission (yeah, he's at least partly responsible for the county's near-bankrupt status), you might conceive of it as another milemarker on a man's route toward his unenviable destiny.