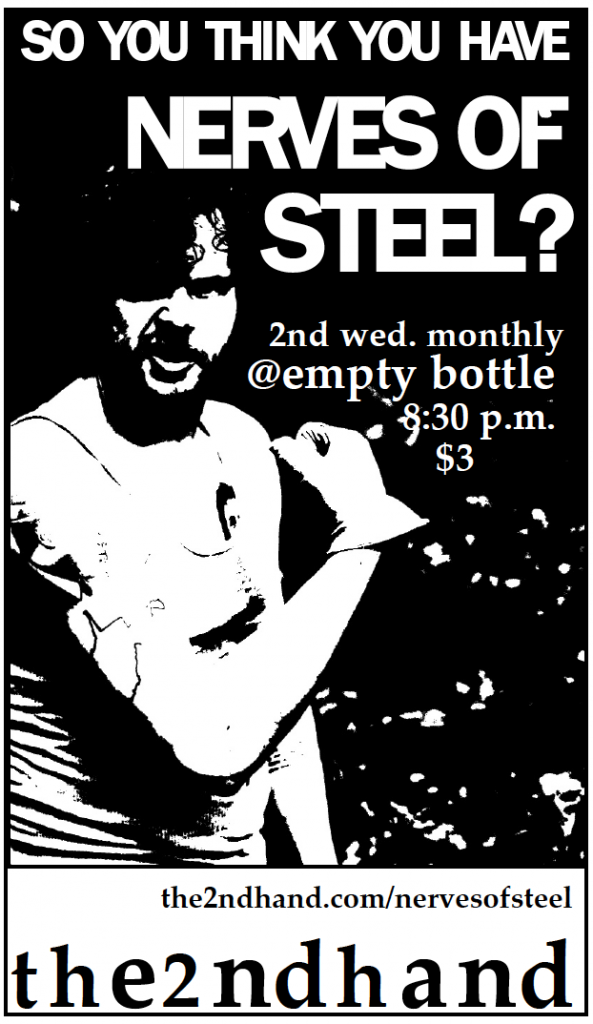 Spring has sprung and host Harold Ray's thoughts are returning time and again to "The Ballad of Neal & the Nerve Pills," a truly haggard tale that he will surely have to tell. House-Band Good Evening just hopes old Harold won't pass out on the railroad tracks again. Chicago's most Appalachian literary variety show, SO YOU THINK YOU HAVE NERVES OF STEEL? returns to the Empty Bottle for its April installment!: Wednesday, April 11, doors 8 p.m., show at 9. @Empty Bottle, 1035 N. Western, Chicago. $3.
Featuring:
Part One of a Complex Curtain-Raiser by Johannes Göransson
Rapped Attacks on Crapitalism by Kris De La Rash
Metier Buffalo Sauce Whipped Up by Patrick Culliton
plus: the Microphone Gymnastics of Russ February and Something Weird That Lasts for a Little Bit and Involves Marc Baez
And our house band, the great Good Evening.
Join us.
And check out Baez's performance at our October 2011 edition, which follows in the vid — in addition to being a great writer, Baez's a fantastically funny stand-up. Who knew? More vid at http://youtube.com/the2ndhandutube.