Fine stuff to share today, a performance from my Philly reading a couple weeks back, touring with the All Hands On book, with Ryan Eckes, Pete Richter and Mickey Hess — all fine and dandy humans with ever capable pens, typing fingers and brains, it's certain.
Joining Hess and Richter for a Nerves of Steel-worthy performance of Hess' classic short "The Novelist & the Rapper" (I know it's been years since I first read it, and Hess reminds me that I made some suggestions on an early draft related to an appearance of headdresses) was a gent who performs under the name Traum Diggs, otherwise known as Dave, doing something behind Richter and Hess' Q&A he hadn't done since 1987 — namely, beatboxing, a full marathon-quantity of it too (the story's a solid 10+ min. affair). Enjoy the vid below, and thanks to all who participated in and came out to the Brickbat reading. Great times, all around. (Oh a-and download Diggs' new "Black Champion" EP here.)
And speaking of Nerves of Steel, our Chicago performance series resumes Tuesday at Hungry Brain. Details via this link.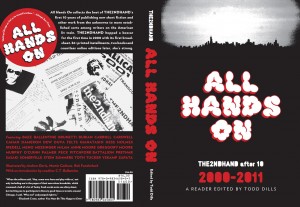 It's All Hands On touring time yet again, this one to join contributors in Philadelphia, NYC, and Northampton, Mass., for three consecutive nights of readings by contributors to All Hands On: THE2NDHAND After 10, our 10th anniversary anthology, among others. Here are the details: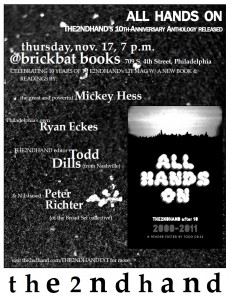 Philadelphia, Thursday, Nov. 17, 7 p.m. (click flyer image at right for a pdf)
@BrickBat Books, 709 South 4th Street
(215) 592-1207
w/ THE2NDHAND editor Todd Dills, longtime contributors Peter Richter and (our FAQ editor and Rider University prof) Mickey Hess, as well as Ryan Eckes.
Brooklyn, Friday, Nov. 18, 7 p.m.
@Book Thug Nation, 100 North 3rd Street
info@bookthugnation.com
w/ T2H editor Todd Dills, longtime contributors Tobias Carroll, Philip Brunetti and Mickey Hess as well as Gabe Durham and Matt Cahan.
Northampton, Mass., Saturday, Nov. 19, 7:30 p.m.
@MEF Community Room, 60 Masonic St., lower level (next to Woodstar Cafe)
w/ T2H editor Todd Dills, All Hands On contributors Matt Cahan and Ben Stein, Gabe Durham and Ted Powers. Music by Gale Thompson.
(For pdfs of flyers for New York and Northampton events, click here and here, respectively.)
PERFORMER DETAILS
PHILIP BRUNETTI lives and writes in Brooklyn.
Nashville-based MATT CAHAN's novel "Straight Commission" is excerpted in All Hands On: THE2NDHAND After 10.
TOBIAS CARROLL is an editor of Vol. 1. His fiction has appeared in THE2NDHAND, Metazen, Word Riot, 3:AM, Storychord, and elsewhere; he makes his home online at www.thescowl.org.
TODD DILLS is editor of THE2NDHAND and author of the novel Sons of the Rapture (Featherproof, 2006).
GABE DURHAM lives in Northampton, MA. He writes fiction and nonfiction, teaches literature, makes up test questions, and edits Dark Sky Magazine. His first book, a novel called Fun Camp, is forthcoming in 2013 from Mud Luscious Press.
Philadelphia-based RYAN ECKES' recent Old News chapbook was published by Furniture Press. Find more from him here.
MICKEY HESS is an Associate Professor of English at Rider University, where he teaches arc welding, mig welding, and creative nonfiction. Recent from Hess in T2H. The Novelist and the Rapper forthcoming in 2012. Find him here.
Poet TED POWERS' recent work has appeared in Strange Machine, Noo Journal, and GlitterPony, among others. He's also an editor with Dark Sky Magazine.
New Jersey-based writer PETER RICHTER's poetry and prose have been featured in Monkey Bicycle, THE2NDHAND, decomP and others. He likes wearing flannel, a recent development. He's a cofounder of the Broadset crew.
BEN STEIN teaches English Language Arts at the Springfield Renaissance School. He lives in Amherst with his wife Julie and their cat. His "Important Things to Remember" short is featured in All Hands On.