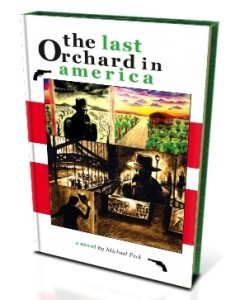 The audio excerpt above from The Last Orchard in America, read by author Michael Peck, sets the tone for what is to come in the voice of narrator and antihero of sorts, private dick Harry Jome. The book is available today via a Kickstarter campaign launched just a week back to fund its printing. If you haven't taken a look at the book as yet, the main page for it is set up at this url here in THE2NDHAND's books section. The Kickstarter campaign you can contribute to here. We're getting closer to the goal of $1,000 or more there — big thanks to all of you who've contributed thus far, seeing lots of familiar names there among the writers and readers who've supported THE2NDHAND over its 14 years of existence thus far. Rewards at the $25 contribution level include past T2H collections — Peck was featured in the 2011 All Hands On: THE2NDHAND After 10 — and other of our books. At higher levels, a variety of prints from Last Orchard illustrator Vinson Milligan remain as well. All, of course, coming along with a copy of the new novel itself. Read the story of how the book came to be via this link to the Kickstarter campaign, and, for now, here's another brief chapter, No. 2, picking up where the above audio section leaves off.
CHAPTER 2

I was at the window looking out over the intersecting bridges spanning the city. Great hulking sculptures of metal and steel, able to withstand the fleeing and the returning with equal ease, layered on top of one another like a crazy staircase. Bridges are the strangest of modern conveniences, a street with no land underneath, a nowhere boulevard that can carry you across seas and lakes and rivers, transporting you to the elsewhere you yearn so vaguely to be. A bridge is neither the beginning nor the end of any journey.
The river beneath the webwork of bridges was sleek and consoling in its dangerous malaise, condemned to thrash, like all good rivers, against the encroachment of civilization.
A drop of rain struck the glass and eased down reluctantly. A siren careened three stories below in the street for a while, found its miserable destination and became a loose, fragile memory among a thousand others that one soon forgets. Then another siren joined in from somewhere beyond the first and the duet spun off to opposite fringes of the city, a cacophony of parting goodbyes in a town that is built of them.
It had been raining for weeks and the buildings out the window were becoming coated in a slick mirror of water that reflected the faded sky. I studied a calendar on my desk, trying to intuit what day it was, but the calendar was from last year and I'd never been keen on math. I sat back in my chair and grimaced at the ceiling.
I yawned, trying to surprise myself.
There was a blue and white marble on my desk that I began to roll back and forth on the uncluttered surface. The ninth or tenth time I was too slow and it bounced against a copy of a dog-eared Dominic Early novel that I'd been meaning to read. The marble dribbled onto the floor like any other sad, useless thing. I peered closely at the little round speck dreamily, urging it to keep rolling, but my momentary optimism wouldn't take. I left myself alone.
Sitting in the same position for hours, romanticizing the days you wasted in the gutter, you tend to disremember that the street exists, that there is something beyond the flickering wall clock in the berserk simplicity of a familiar room. That maybe you're a self-propelling organism with the nerve to feel all right; your body an urban development project and the brain a ticket-window to a carnival that is always vacant, though some silly bastard keeps the hallucinatory rides well oiled and moving along.
Lousiness doesn't achieve much more in one day.
That morning a middle-aged woman visited my office and offered me $400 to investigate the death of her husband. She was a babbling matron with the physique of a sack and lips purpled by wine, barely able to subvert a speech defect that slurred her words. The husband was decapitated by a train as he attempted to switch the tracks at some remote outpost beyond the suburbs. I tuned out what she was saying for a couple minutes, her mouth jabbering, until she noticed me not listening, and raised her voice.
"It was mysterious," the woman said. "In a week he was going to blow the lid on the Switchmen's Union and some people—and by that I mean some people—didn't like the idea much. And so you can imagine what I think."
"Why was he going to 'blow the lid on the Switchmen's Union?'" I asked, and the woman must have heard my stultified tone, because she looked like she was going to spit on my desk.
"Roger said something about," the woman paused, recalling, "black market goods being loaded onto freighters by certain squalid switchmen."
"What kind of black market goods?"
"He never mentioned."
She gave a harrowing account of the switchman's life, replete with dinner routine, the hour his alarm sounded each morning, his Sunday yard work. Finished and breathing hard, gray hair clinging to her forehead, she expounded some more and fell silent. Perspiration slithered on her exposed skin like she'd just enjoyed a bath of swamp water. It was disgusting to me.
"Any witnesses?" I asked.
"Just the engineer."
"What does he say?"
"He was asleep."
"So he wasn't really a witness."
"He was there," she spat.
As bluntly as I could I told her that her personal grief was not a good enough reason to suspect assassination. People get in the way of trains sometimes. "Basically I don't like or trust people who sweat profusely," I said aloud without really meaning to.
"You have the mouth of a dog," she said.
"Not every freak death is a conspiracy," I said. She tore into a plastic bag of tissues. "Stupidity is extremely unregarded as a transport to death."
"Roger wasn't stupid, if that's what you mean."
"I do, and I'm sorry, but anybody who gets his head knocked off by a slow-moving train is challenged in some special way. Wouldn't you agree?"
I could have taken her dollars and done nothing but sit around and stare at them for a week, then report to her that I'd been unable to uncover anything conclusive. Maybe I was feeling lazy; possibly, I simply did not care. From Malthus one learns that the cause of all evil and crime is overpopulation, and ever since Pinkerton it has been good private policy for someone in my line of work never to meddle with unions.
"I thought you did this kind of thing," she said, rising with tissues clasped in each hand.
"Honestly, I don't know what it is I do anymore. It's not your fault. I'm disillusioned, is all."
"It certainly isn't mine," she hissed. "I ought to spit right on your desk."
She sobbed out to the hallway. As the elevator descended her whelps grew distant and stopped altogether, then resumed through the open window. I watched her hustle across the street against the light, nearly getting plowed down by a dump truck.
Thinking about the easy $400 I could have acquired, I tucked in my once-white dress shirt and propped a suit coat on my shoulders. A year and a half ago I'd nailed a portrait mirror to the backside of the door. Intended as security to inspect every angle of a client, it served mainly to deflate my vanity. Not a handsome man, perhaps, rather plump and grim under the eyes, the kind of looks certain women appreciate from a distance and realize, on closer scrutiny, they are very mistaken. But I wasn't out for any woman. I'm sure they'd had enough of me, too.
Well, Harry Jome, I said to myself, stepping into the plank-floored corridor, whose walls were painted in indignant swipes of yellow and red. Let's you and me get a couple of eggs. It's about time we had some excitement.

Catch the next few chapters in this excerpt at Vol. 1 Brooklyn.
You can order the book via this link.