Another story featured in my
Triumph of the Ape
collection of shorts,
available for order via this page
, is out there for your reading pleasure in the
Michael Fournier edited/collected broadsheet Cabildo Quarterly
, inspired in part, Fournier has graciously said, by T2H. The story stems from two of several brushes with death by firearm over my time in Chicago, round about year 2004, I'd guess, the great and wonderful Susannah Felts having gotten me into treading air on a rotating rubber surface fitted to a machine at the Logan Square YMCA, the experience of sweating heavily on said machine and an anonymous male walking casually into the workout room to declare/interrogate: "Is anybody in here a doctor?" Turns out a couple hotheads got into on the basketball court in the Y and one left out the back door, came back with a pistol to settle the score successfully.
A couple days or weeks or less later, Susannah and I got stranded at the Hollywood Grill at Ashland and North Ave. early early early one morning on the way home from a bachelorette party night for her former sister-in-law for which I was to have served as the ride-home chauffeur. Over 3 a.m. plates of whatever beautifully greasy slop was served up that night, our waitress happened to ask if we'd parked in their then-brand-new mini-parking garage along Ashland.
We had.
Bad news: "You won't be able to get your car for a while," she said. "It's a crime scene."
Someone had been shot.
Then, well, the return round 9 a.m. to pick up the car, ensuing paranoid anticipation of strike three, a drunk psycho who lived across the alley behind our apartment, angry heads backlit in windows across Walton St. in front of it, release through writing, as it were. You can read it in Cabildo online or download the issue pdf here. Or: Write me and I'll send you a copy: todd [at] the2ndhand.com.
Likewise goes for new Triumph postcards I cooked up recently, compliant with postal regulations (yes, you can mail them) and wonderfully printed via Modern Postcard. As Jerome Ludwig said recently of postcards, surely not the first such person: "the original text message." If you're up for handing around small stacks in your town, let me know and I'll mail you a cache. There's a brief excerpt from "The Stupidist Manifesto" on the the front side, more or less blank on the back. Looking pretty good, eh?: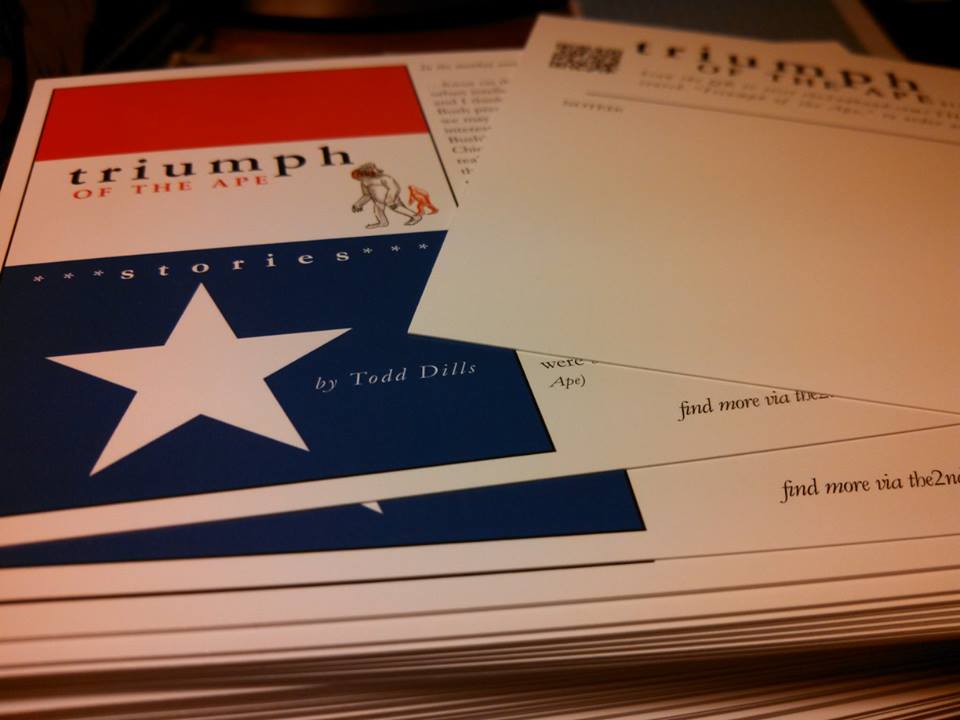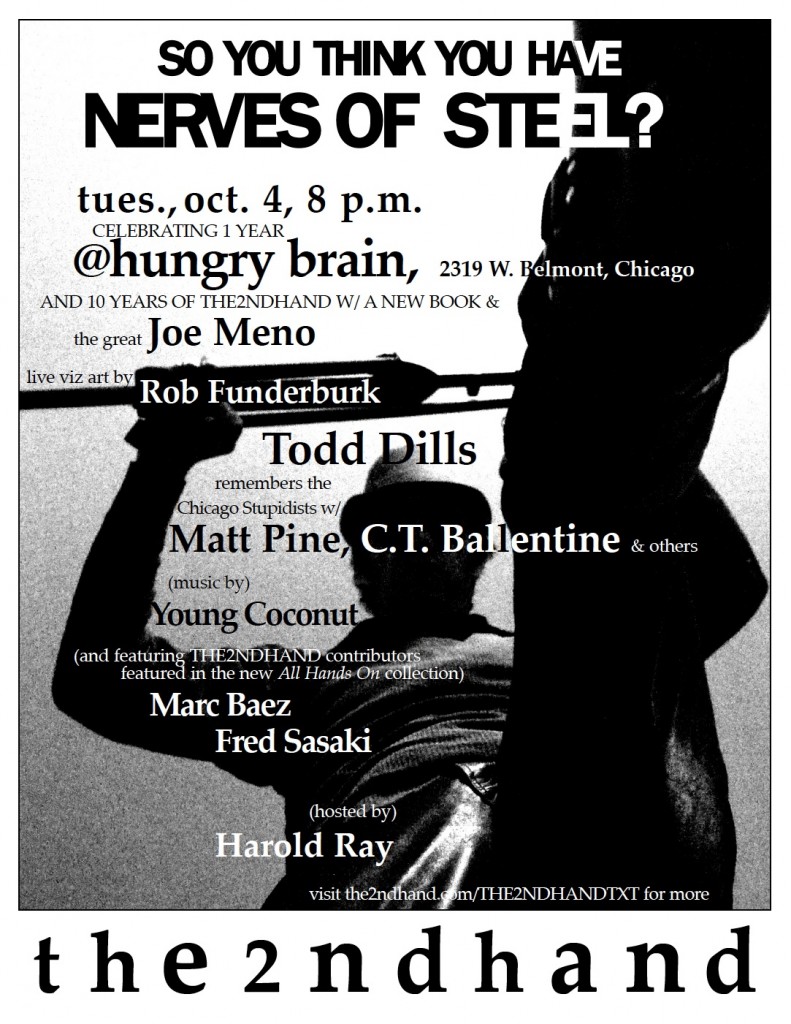 Though we be in the business of the creation of new things, it's old-home-place week at So You Think You Have Nerves of Steel? Oct. 4 at Hungry Brain, with THE2NDHAND editor Todd Dills, former design man and janitor emeritus Rob Funderburk, writer Joe Meno and a cast of sundry others on hand for a run through the past, present and future. Harold Ray, as always, plays hosts to this reunion of the Chicago Stupidists. Prepare to be browbeaten by Stupidist Manifestos, live art, maybe some ukulele and exquisite storytelling, no doubt, as we celebrate the release of All Hands On: THE2NDHAND After 10.
Here's the digs:
Featuring:
Live viz-art by Rob Funderburk, former THE2NDHAND illustrator and design man, known for murals, interior performance spaces, paintings, and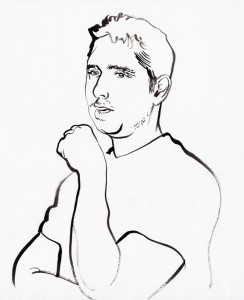 more, Funderburk's illustrations are featured in All Hands On.
Master swordsman Joe Meno (depicted here in an illustration by Rob Funderburk featured in All Hands On), author most recently of the novel The Great Perhaps. (And also: Hairstyles of the Damned, The Boy Detective Fails, a few different short story collections as well as stories going back to THE2NDHAND's third issue.)
T2H coeditor C.T. Ballentine (featured also in All Hands On) with his band Young Coconut.
And T2H editor Todd Dills up from Nashville to perform with a crew of T2H writers including Balletine, Matt Pine and others. Leather may be involved. Perhaps pink bandanas.
All Hands On contributors Marc Baez and Nerves alumnus Fred Sasaki round out the blowout.
ALL HANDS ON @ So You Think You Have Nerves of Steel?, Hungry Brain, 2319 W. Belmont, Chicago — Tuesday, Oct. 4, 8 p.m.