There's a series of blog posts all answering the same set of questions going around like a chain letter — in part, it will see something of a tentacle-end here, as I have been less-than-diligent about making certain friends and associates were lined up after me. There are two, however, folks perhaps more interesting than myself who will be taking part fairly soon, one a longtime T2Her who may or may not be living under an assumed name wherever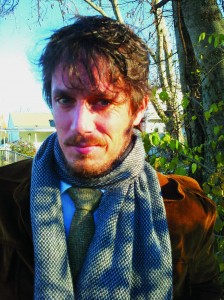 he happens to be these days and the other a newer acquaintance/coconspirator living close by here in Guitar Town, as the highway haulers call it (find them at the end of what follows, a self-interrogation regarding my "long thing" long in the works). Gretchen Kalwinski gave me the big hand-clap over the turnbuckle to set me out on this, fyi — her addition to the "Next Big Thing" blog chain (whose name perhaps strokes my elementally narcissistic tendencies very nicely, thank you) you can find here. Well worth the time.


What is your working title of your book (or story)?
Shining Man, not that guy up there (yeah, that's me)
Where did the idea come from for the book?
A couple places:
A long admiration of — yes, bordering on obsession with — Ralph Ellison's novel Invisible Man and its interrogation of group v. individual identity in American culture, black and white. If you haven't read it, you should. How did I miss an apparent 2002 PBS "American Masters" series episode about him that I just realized exists? I rarely watched television at the time other than to veg out for 30 minutes before sleep watching Seinfeld reruns.
More pertinently, perhaps, the title character/narrator sprung into my life in Chicago in the year 2000 with a very short story about a down-and-out sort in his mid-late 20s whose disappeared father leaves him stacks of boxes full of  reflective roadworker-type vests he's (the father's) apparently purloined from his (the father's) employer, i.e. a division of Chicago Streets and San. Narrator ultimately comes to craft full-body reflective suits from the reflective material on these vests and take to the streets in the wee hours, tempting fate out in the middle of any number of streets, expressways, bouncing back glaring headlights of late-night revelers and criminals like a ghost.
The extremities of bright light and darkness, the wild metaphorical possibilities of the activity of standing in traffic as a life's pursuit, the character's somewhat misanthropic but ultimately vulnerable and empathetic nature — all of these stuck with me through the years as I went about other business and watched a near-decade of war, greed, etc. takes it toll on the people and places around me. As the toll was becoming readily apparent in 2007, I was living in Birmingham, Ala., and picked the story back up for a long-ish amount of time before other projects intervened.
What genre does your book fall under?
Literary fiction, I believe, though Amazon at one point not so long ago had my first novel, Sons of the Rapture, categorized as "Men's Adventure" or something similar — I suppose that might fit too!
There are some elements of mystery/noir, but they're utilized to either satirical or character-building purposes, ultimately.
Which actors would you choose to play your characters in a movie rendition?
Are you serious? OK, I guess you are. The only actors who could potentially play the narrator that I can actually think of and name are way too old to do so by now, which may tell you a little about my connection with a lot of U.S. popular culture at this point. Actually, on second thought, the gent who played junkie/brit rock'n'roller/budding father figure Charlie in Lost I can sort of see as physically resembling my mental image of the character. Eh…
What is the one-sentence synopsis of your book?
A young man, learning of his father's disappearance and possible death, flies off on a series of goose-chases to which he is unwitting, works without meaning at one gig after another and ultimately drops out of the mainstream of American life when he's able to see with clarity the very simply reality that he's not the only one dealing with the many barriers erected in front of his pursuit of meaning, happiness. (Long sentence, I know — I need to work on that. Gretchen did much better.)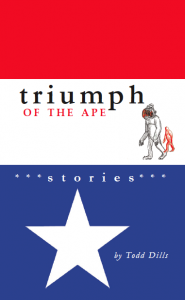 Will your book be self-published or represented by an agency?
Are you serious? OK, once I finish it I'll deal with that — the last two book projects I've undertaken (click through the image at the right for the latest) have been entirely self-driven (with pro bono help, of course — thanks again, everybody), and it's very time-consuming to get all the pieces of a quality project together. If I can get help, I will take it.

How long did it take you to write the first draft of your manuscript?
Technically, I haven't finished the first draft. But much of the material with this one has been rewritten over and over as I slowly move forward with the story. I've been working off and on since 2007 with this material, after the original short in 2000. The six years have been interrupted by those two book projects (in terms of writing, editing and producing), a full-time job writing for a couple magazines, and more, so saying I've been working on it for six years is not telling the whole story.
What other books would you compare this story to within your genre?
As noted earlier, Invisible Man is a definite structural/broad-thematic inspiration. It will have some similarities to a number of first-person-told novels of coming of age or, rather, late coming of age and adjusting badly to adult life. Barry Hannah's Geronimo Rex, maybe.
Who or what inspired you to write this book?
Cf. "where did the idea come from"/similar question above. Much of the inspiration these days is self-propelled, a matter of will, you could say, and creating the time to do the work. The Occupy phenomenon got me back into it in earnest a year and a half back, actually, supplying a sort of real-life corollary to a plot/thematic element I had long been struggling with how exactly to approach. Life is more interesting that fiction, reality catches up with fiction, all that.
What else about your book might pique the reader's interest?
It involves in its latter half or so a NASCAR driver and his team — Turner Bascombe is some senses intended as a contemporary version of wildman stock-car circuit pioneer Curtis Turner, one of the old driver-owners active mid-last century. Bascombe is something of an impossible figure in the reality of top-level stock-car racing today, being a successful driver-owner in an era of big-money multi-car teams and what-have-you, but I find the notion compelling and the potential for such a character great. I grew up near Charlotte, N.C., after all, home of most of the NASCAR teams, and a good bit of the novel is set there (the narrator spends a part of the book on the pit crew of the team after a chance meeting with Bascombe during a freeway traffic stand in Alabama on the eve of the Talladega race). I have an old affection for the racing pastime/sport/waste of perfectly good oil.
NEXT UP IN THE BLOG CHAIN:
Emerson Dameron has been a THE2NDHAND contributor for a very long time, though not for a long time as well. We miss him. 
Chuck Beard is the proprietor the East Nashville-based East Side Story bookshop, dedicated to Nashville-based writers, primarily, and artists. He's also the author of the novel Adventures Inside a Bright-Eyed Sky.