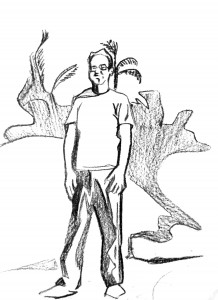 Hess' work is featured in a special section in our newly released 10th-anniversary collection All Hands On: A THE2NDHAND Reader. Order it here. For more about Hess, visit his website; he has both a novel and short story collection forthcoming in the next year's time.
A tug-of-war was on. Once we'd entered the competition, the picnic became a widower's nightmare. A tow-truck driver outweighed me by more than I see fit to mention here, and no one pulling knew enough to see how that mattered.
I took my place at the front of the line, bowed, and took a good long tug. The rest of the contestants wore fitted gloves but mine were another example of how hand-me-downs should not count as Christmas gifts. Pulling, I felt my shoulders had taken up twitching.
Outsized, we helmeted workers fared worse than children. I noticed how many of them (children) were laughing or pointing at us, gaps in their teeth. They would tug-of-war childishly, grab one end of the rope but let go to run home and touch buttons on the DVD player. Or was it a simulation tug-of-war they anticipated, complete with a Wii controller they'd wield as their parents acted impressed? "You rotten youths!" I said (someone had to say it). I couldn't make tug-of-war a success but I knew what I was doing. "I hate to say it," I shouted, tugging, "but you're going to work selling sports helmets, graduation caps or not." Foot Locker was hiring. I'd seen a quarter of a dozen signs about it.
That information caused silence. For a minute, I thought some of them were about to weep. "When all my generation's deceased, when this fat Irish dump truck driver's dead as free email," I shouted, sweating, "I swear to God, you resuscitate me for ten seconds and I'll beat this information into all nine of your preteen peepholes."
I sounded angry, I know. But my shoulders agonized enough to tell these teens what they were in for. "What kids don't get about things is how old men want severance checks. We're dying in front of you," I said. "You don't believe me? This tug-of-war is all we have, and we don't want to lose."
The youths stripped off their t-shirts and joined the workers' team, stepping in there and tugging like motherfuckers. Watching, a bunch of people with thin arms and no self-respect looked up to us, their general opinions of tug-of-war warped after a day spent meditating on this one.
ORDER "ALL HANDS ON," THE2NDHAND'S 10th-anniversary collection.