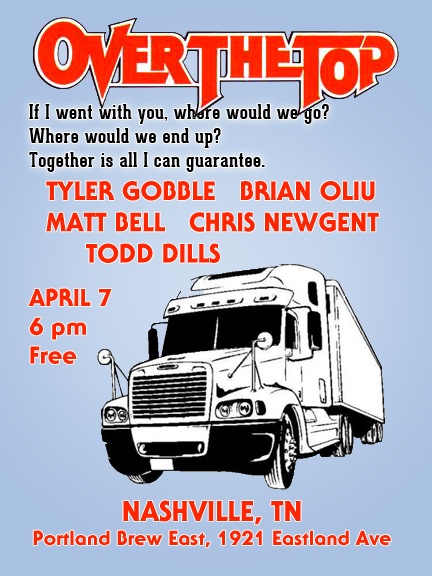 Matt Bell (Michigan), Brian Oliu (Tuscaloosa), Tyler Gobble and Christopher Newgent (Indianapolis) are striking out together into the Deep South to get their new books — The Fullness of Everything (Oliu, Gobble, Newgent) and Cataclysm Baby (Bell) — into your hands, or at least to armwrestle you. Get 'Over the Top' and diesel-soaked with the lot and THE2NDHAND editor Todd Dills at Portland Brew East on Eastland in Nashville (not the Deep South, as it were) Sat., April 7, early style. Plenty of time to get a workout, then hit the neighborhood establishments for food and refreshment after.
Join us.
Over the Top
Saturday, April 7, 6 p.m.
Portland Brew East
1921 Eastland Ave, Nashville
Order THE2NDHAND's 10th-anniversary collection, All Hands On, featuring the work of more than 40 contributors.