Let it be known that when there are challengers there are challengers. One calls to front brain wellsprings of people power sweeping certain distant locales and our own calcified North American adventures of yore, perhaps also in my mind at least the brightening though perhaps still quite dim star of Califone in the pantheon of candidates for Band of a Particular Generation of Which I Am Part, stiff competition for the most consistent, at least, or Radiohead.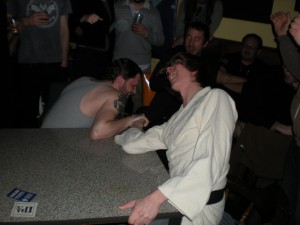 Chicago insurgent Mason Johnson came into the Hungry Brain last Tuesday night planning on out-Nerving — or, perhaps, out-Steeling — our own Harold Ray, host of the Nerves of Steel performance series and, well, one tough son of a bitch. Johnson went so far as to build his own parodic event flyer in which he proclaimed his prowess, and there was much online verbal abuse hurled back and forth in the run-up to the event. WWF/E-style theatrics — razorblades, chest-thumping, neck-tendon-tightening growling, etc. — seemed the order of the day.
Needless to say, as results are clear from the picture above (that's Ray in the wifebeater, Johnson in the karate outfit getting whipped; pic from Untoward mag), the ever-more-lit West Virginian Ray emerged triumphant, a victory Untoward Mag attributed to his "mountain man's grit," among other things. Get over there and read their account.