We've got work to do, with a daylong festival in Nashville on Saturday, a drive to Chicago on Sunday for readings Monday and Tuesday evening at Quimby's and Hungry Brain, respectively, then back Wednesday. It's all in the name of celebration of 10 and more years of writing published in these halls, which makes it sweet indeed. Below is a listing of the events upcoming, with links to
more information for those interested. Hope to see you out at one.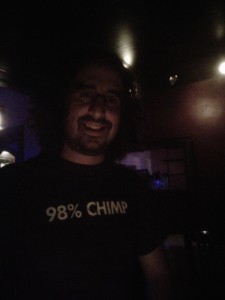 And here's a picture from All Hands On's first Chicago date this past Monday — with featured writers Lauren Pretnar, Heather Palmer and Mike Zapata at Katerina's on Irving Park Road. Jacob Knabb snapped it, of Zapata wearing a most apropos t-shirt for a T2H event, I'd say. Apes unite!
EVENTS UPCOMING:
NASHVILLE: Saturday, Oct. 1, 10 a.m.-5 p.m.: Handmade and Bound Zine Festival, Watkins College of Art & Design, 2298 Rosa L. Parks Blvd., Nashville, TN. THE2NDHAND will be tabling with the new book and a new broadsheet and editor Todd Dills will be giving a workshop tour through THE2NDHAND's history in a practical, conception-to-nuts-and-bolts-type program titled "Toward a self-sufficient, long-lived zine", 12:30 in room 503: http://handmadeboundnashville.com
CHICAGO: Monday, Oct. 3, 7 p.m.: All Hands On released at Quimby's Books, 1854 W. North Ave., Chicago, featuring AHO contributors Jonathan Messinger (Time Out books editor, Featherproof publisher, Hiding Out author), Jill Summers and Kate Duva, as well as THE2NDHAND editor Todd Dills: http://the2ndhand.com/THE2NDHANDTXT/all-hands-on-launched-at-quimbys-oct-3/
CHICAGO: Tuesday, Oct. 4, 8:30 p.m.: All Hands On @ So You Think You Have Nerves of Steel?, THE2NDHAND's monthly variety show at Hungry Brain, 2319 W. Belmont, Chicago. This month's installment brings together longtime THE2NDHANDers with new faces, featuring AHO contributors Joe Meno (The Great Perhaps, Hairstyles of the Damned), Rob Funderburk (visual artist/designer, formerly THE2NDHAND's design man), THE2NDHAND coeditor C.T. Ballentine, editor Todd Dills, Fred Sasaki and Marc Baez. Also featuring Chicago writer Matt Pine, music by Young Coconut, and Nerves host Harold Ray: http://the2ndhand.com/THE2NDHANDTXT/nerves-of-steels-special-all-hands-on-edition-tuesday-oct-4/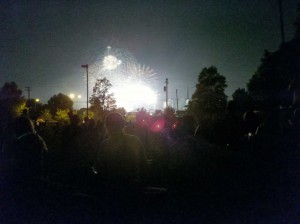 Busy week at THE2NDHAND HQs in Chicago and Nashville this week, on top of festivals of hot chicken and backyard BBQ and fireworks, as well as the more not-so-backyard variety, as shown here. (Gotta love that Nashville blow-stuff-up spirit.) Tuesday night Nerves of Steel is back in Chicago after a brief June West Virginia sojourn. It ought to be a rad showing, with writer Michael Czyzniejewski on the program with the comedic duo of the Puterbaugh Sisters, band the Post-revolutionary Letdowns, and more.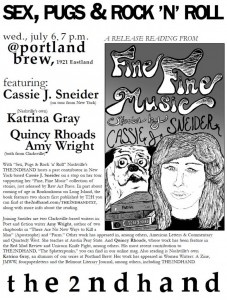 In Nashville, an event I'll be hosting, writer/comix artist Cassie J. Sneider stops off on a 48-state tour behind her new Fine Fine Music
collection. She's joined by a Nashville writer folks will remember from one of the first couple readings we put on here, in 2010, Katrina Gray. Two Clarksville-based scribes are headed in for the event as well, Amy Wright and Quincy Rhoads, who oddly enough were at one point in the distant past prof and grad student in a class at Austin Peay uni there. They're all awesome writers, in any case — don't miss it.
Finally, Cassie herself shared these seven reasons to come to her reading, "even though you don't know me,"  as she puts it:
1. You can tell all of your friends you 'attended a reading', which makes you sound really smart and superior and better than them, which you undoubtedly already are.
2. It's like Hulu-ing Hoarders, but WITH YOUR IMAGINATION.
3. Free comics for everyone!
4. I'll let you pet my hair and pretend I'm not creeped out by it.
5. I'm, like, a really good reader.
6. Did I mention free comics?
7. I will pet YOUR hair and you can tell your friends you went on a date with me. …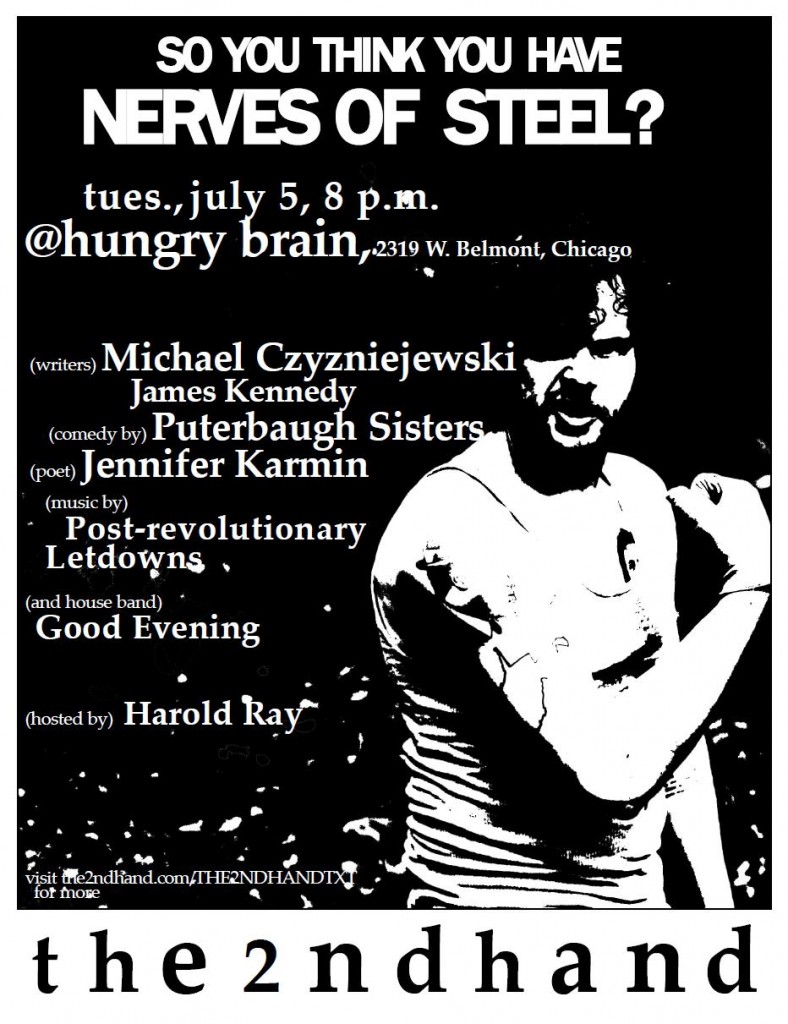 Let it be known that when there are challengers there are challengers. One calls to front brain wellsprings of people power sweeping certain distant locales and our own calcified North American adventures of yore, perhaps also in my mind at least the brightening though perhaps still quite dim star of Califone in the pantheon of candidates for Band of a Particular Generation of Which I Am Part, stiff competition for the most consistent, at least, or Radiohead.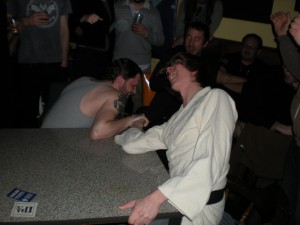 Chicago insurgent Mason Johnson came into the Hungry Brain last Tuesday night planning on out-Nerving — or, perhaps, out-Steeling — our own Harold Ray, host of the Nerves of Steel performance series and, well, one tough son of a bitch. Johnson went so far as to build his own parodic event flyer in which he proclaimed his prowess, and there was much online verbal abuse hurled back and forth in the run-up to the event. WWF/E-style theatrics — razorblades, chest-thumping, neck-tendon-tightening growling, etc. — seemed the order of the day.
Needless to say, as results are clear from the picture above (that's Ray in the wifebeater, Johnson in the karate outfit getting whipped; pic from Untoward mag), the ever-more-lit West Virginian Ray emerged triumphant, a victory Untoward Mag attributed to his "mountain man's grit," among other things. Get over there and read their account.