HOME | BROADSHEETS | 2000-10 ARCHIVE | EVENTS | BOOKS

Mickey Hess' Nostalgia Echo novel, published in late 2011 by C&R (Chattanooga), is the longtime T2Her's homage to Kurt Vonnegut's Breakfast of Champions, the story of Princeton prof and lesser-known "nostalgia theorist" Everett Barnes' late-life brush with whatever fleeting version of stardom is possible for his ilk in our time, complete with his image stenciled on freeway overpasses -- a History Channel TV show having sparked it all, of course. Perhaps more importantly, the book is also the last, most appropriate chance for its narrator to tell his own story. A brush with Barnes in his youth, documented in an old photograph that is his only personal vestige of his birth mother's existence, provides the impetus for the working narrator's growing present-tense obsession with the nostalgia theorist, likewise the graffiti artist who is the origin point for the Barnes stencils. In short, in classic Hess fashion, it's a wild, hilarious ride of a book. No. 37.1 consists of Chapter 3, with included shorts by T2H coeditor Jacob Knabb ("Pig Sweatin'") and a poem by Nashville writer Brad King ("Long Lost Pals," see how they roll).
Find more from Hess in his section of our All Hands On 10th-anniversary anthology, available now for order via this page.
To read this 11-page issue in pdf (new layout optimized for eReaders/tablets), click on the thumbnail of the front and/or back sides below or shoot the QR code on p. 2 with your smartphone or tablet.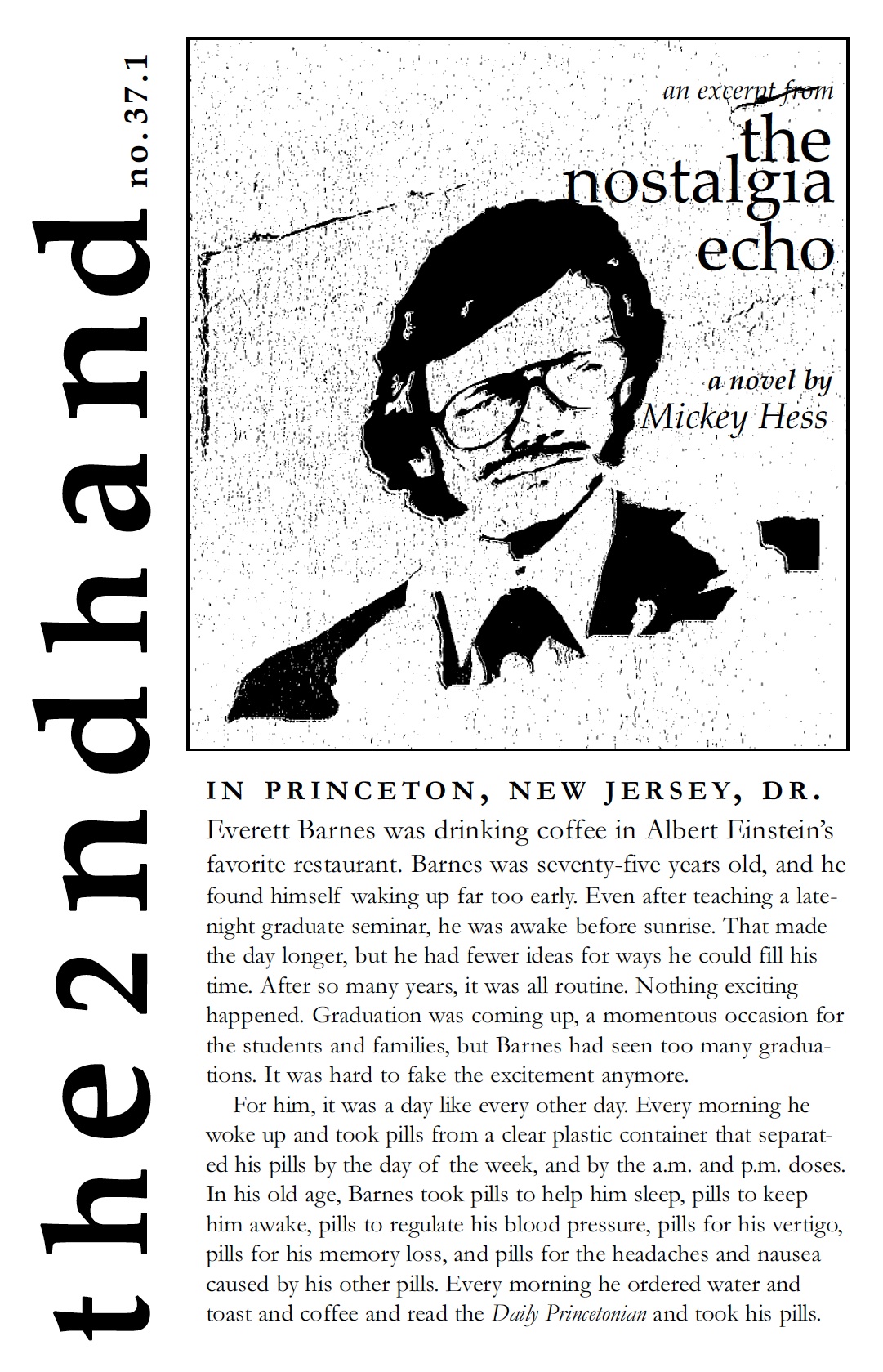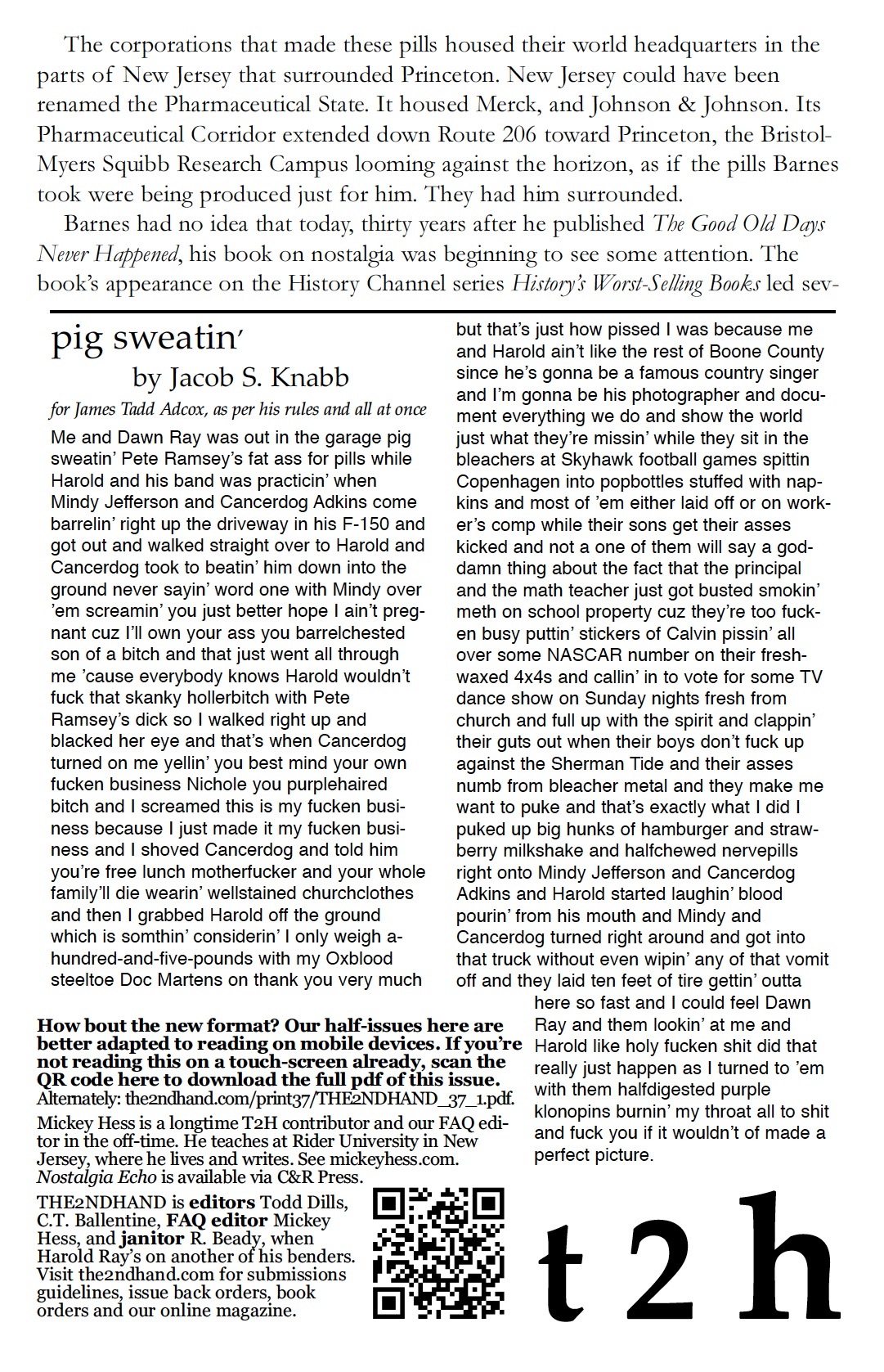 Consider donating to THE2NDHAND to fund our ongoing work in publishing new writing, via Paypal:
A lifetime subscription for readers in the U.S. (e-mailed pdfs for our decimal-point-numbered issues, broadsheets for the whole-numbered) can be had for a donation of $30 or more, three years (or 12 issues) for $20. Checks can be made payable to Todd Dills/THE2NDHAND and mailed to:
THE2NDHAND
1430 Roberts Ave.
Nashville, TN 37206
c/o Todd Dills
or send a payment through Paypal here:
Click on the All Hands On cover image to order.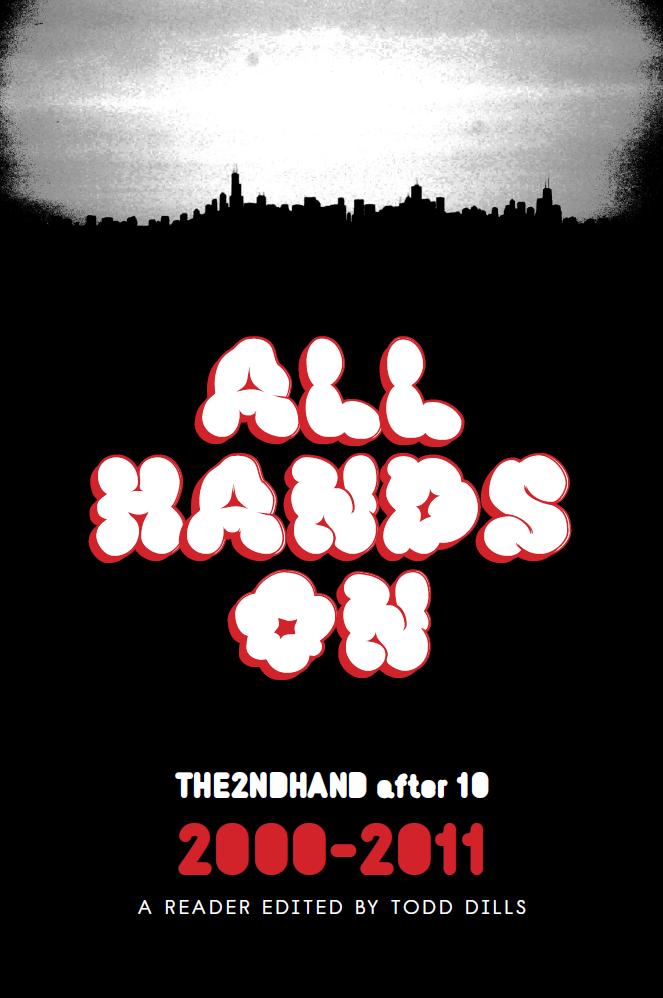 .
012011