READ THE CURRENT ISSUE
READ THE2NDHAND txt, OUR ONLINE MAG
PAST BROADSHEETS | About/Subscribe | Online archive: 2000-10

It's been a long run for THE2NDHAND, the little magazine -- not even a magazine in any traditional sense but rather a broadsheet, perhaps the last periodical on earth to be launched without a prefabbed website to bolster its offset-printed pages (though 'twas to follow shortly, publishing flash and serial fiction here weekly from late 2000 on). We mean: THE2NDHAND is a page. A big one -- 11x17-inch block of black text peppered variously with photo-illustrations, comics, line drawings, distributed in storefronts first in Chicago, then in an ever-growing list of cities around the U.S.. New writing, simply, has been its focus since editor and publisher Todd Dills founded it in 2000 -- a small format its physicality, but a loud mouth and a big heart its most important parts.

All Hands On: THE2NDHAND after 10 will be published in 2011 to celebrate and lay down the best of the mag's 10+ years of publishing writing by the budding insurgents of the American lit landscape -- and others, no doubt. True to form, the book begins with a section of new, as-yet unpublished work.

After a successful Kickstarter campaign raised funds to print the book, ALL HANDS ON: THE2NDHAND AFTER 10, A READER arrives this spring/summer.
The 300-plus-page All Hands On collects previously unpublished stories by the likes of past contributors Nadria Tucker, Patrick Somerville (The Cradle) and Joe Meno (The Great Perhaps) as well as new faces like Amanda Yskamp, Ben Stein and others. Special sections over the bulk of the book are occupied in most instances by multiple shorts from our best repeat writers, from Meno, Somerville, Tobias Carroll, and Al Burian to Heather Palmer, Jill Summers, Kate Duva and longtime T2H FAQ editor Mickey Hess (Big Wheel at the Cracker Factory). A full list of all represented contributors follows, along with other specs of the book.

Preorder All Hands On: THE2NDHAND AFTER 10 by sending a $15 payment through PayPal via the "Add to cart" button or through Amazon utilizing the payments button.

Or mail a check for $15, made out to Todd Dills, to THE2NDHAND c/o Todd Dills, 1430 Roberts Ave., Nashville, TN 37206.

ALL HANDS ON: THE2NDHAND After 10, 2000-2011, 300+ pages, perfect-bound paperback, a reader edited by Todd Dills w/ an introduction by T2H coeditor C.T. Ballentine and featuring new work and other features by: Michael Zapata, Jamie Iredell, Patrick Somerville, Amanda Yskamp, Nadria Tucker, Fred Sasaki, Ben Stein, Susannah Felts & Todd Dills, a mini-epic poem ("Chicago") by Doug Milam, Matt Cahan and Mike Nowacki
**Cover design by Featherproof Books' (and T2H contributor) Zach Dodson
**Illustrations for the lead section by comix artist/cermacist Andrew Davis
**Author illustrations by Chicago artist and T2H janitor-in-residence Rob Funderburk
**Special sections with multiple short stories by Marc Baez, coeditor C.T. Ballentine (including the entirety of his "Friedrich Nietzsche Waits for a Date" novella), Philip Brunetti, Al Burian (the Burn Collector zine and associated books), Tobias Carroll ("The Scowl" blogger), Spencer Dew (Songs of Insurgency), Kate Duva (cohost of our Chicago "So you think you have nerves of steel?" reading series), David Gianatasio (Mind Games), Mickey Hess (Big Wheel at the Cracker Factory), Joe Meno (The Great Perhaps, Hairstyles of the Damned), Jonathan Messinger (Hiding Out), Doug Milam (Still the Confusion), Anne Elizabeth Moore (Unmarketable: Brandalism, Copyfighting, Mocketing, and the Erosion of Integrity) with comic adaptation by Josh Bayer, Greggory Moore, Kevin O'Cuinn, Heather Palmer, Michael Peck, the Pitchfork Battalion (a collaborative crew with roving membership, including many of those already listed, plus, featured in the book, Sean Carswell, Jim Murphy, Emerson Dameron, John Minichillo, Motke Dapp, and Dominique Holmes), Lauren Pretnar, Patrick Somerville (The Cradle), Jill Summers, Paul A. Toth (Finale), and Nadria Tucker.





---
THE2NDHAND maintains a list over at Amazon.com of selected books by contributors to the broadsheet and this online magazine. Get over there and take a look: Books by THE2NDHAND Contributors.
---
ALL HANDS ON: A THE2NDHAND Reader
edited by Todd Dills
w/ an Introduction by Jim Munroe
$12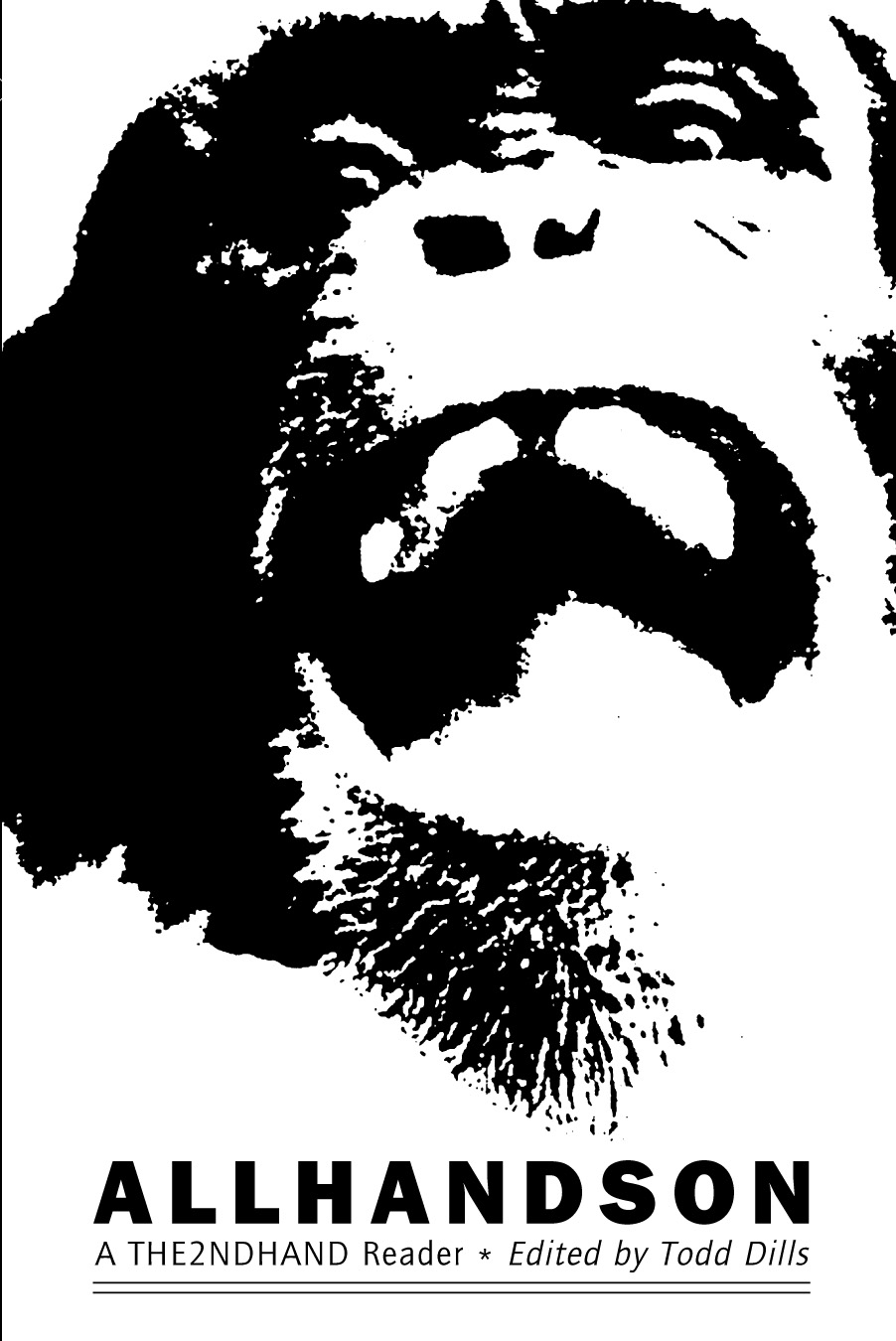 250 pages wide, perfect-bound, ALL HANDS ON featured the best of THE2NDHAND's first four years of published work from more than 30 contributors.
Like placing your ear beside some kind of magical, future radio and listening to the shocking world of the strange and new.... ALL HANDS ON, an anthology of new work and old, features the best of the magazine and a look at what may stand as the underground lit world's most interesting contemporary writing. --Punk Planet
THE2NDHAND has been the most exciting literary vessel in Chicago, opening a comfortably padded room for the anecdotal fiction writers and the experimental tale-spinners to play together where no one will get hurt. Read through this collection of four years worth of stories, and you'll see the line between the two isn't as clear as all that. And in the way the strongest species survive, it would seem the cross-pollination that happened over the years has strengthened both sides. --PopMatters.com
THE2NDHAND is really about writing.... This is in many ways better than McSweeney's, and in many more ways better than McDonalds. --Roctober
Or mail a check for $12, made out to Todd Dills, to THE2NDHAND c/o Todd Dills, 1430 Roberts Ave., Nashville, TN 37206.
---
FOR WEEKS ABOVE THE UMBRELLA
2002 November, by Todd Dills
70 pages, saddle-stapled, $7
To order using any major credit card via PayPal (allow a few weeks for delivery):
At the close of the twentieth century, amid the wiretapping, the e-mail interception, a few of us were none the wiser, but all the saner just the same; this is the sad anomaly. These 15 stories, produced over the course of 2 years, were mostly published elsewhere prior to this collecting, and include certain THE2NDHAND classics about Rat Kings, heavy metal albums, the Skunk Ape, menace to southwestern Florida, and the like, and surely wouldn't be complete without such formal hi-jinx as Weeks, Itineraries, Canned-Vegetable Activity Schematics, and more. Suffice it to say we're glad to see it. May the light shine down on thee....
'22 Feb 2002: in the haze of this morning's sleepiness I thought that we none of us are deserving of names, that it makes more sense just to be the lady, the cohort, the friend, the columnist, the Frenchman, the single man, the Skunk Ape. In any given moment there are never much more than one of each, anyway, are there...'
from Week of Skunk Apes
'...there will be things that will rend you, things that will take your ribcage like in fists and pull and pull until your breastbone breaks and your guts go spilling over the table in certain indistinct and highly emotive phraseology, but not today, not now, for you will be swimming in glory in a little tiny corner restaurant waiting for reallyreally nice and good food and A. will smile and pour herself another glass of wine and raise it high, but not before your version of same...you will raise that glass and A. will her own and you will smile and nothing will be said and there will be shortly a sound as of two cheap plastic ink pens being tapped together and you will stand in back of yourself and feel...'
from London Itinerary -- Day 2
'4. I heard a wild rumor that, where I now reside, there is a man running around town in an El Camino shooting holes with a .38 in those big blow-up gorillas people put on top of new sports stores and in car lots to attract the attention of people in their own cars with money. And I believed the rumor. Likewise, where I now reside, there are protests here and there against this and that, mostly against things that don't matter, like T.V. shows...'
from Sell Me to the Mayor
OUR FRIENDS AT The Left Hand make great soap, salves, balms and other natural hygiene-type stuff, in addition to publishing a zine and running a book swap, a performance series and more from their Tuscaloosa, AL, homebase. When they offered to make something for us, we jumped. We introduce THE2NDHAND soap, an olive oil soap with a quadruple dose of Bergamot, "for the readers we've sullied..." Price is $6, ppd.