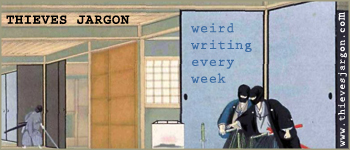 We at THE2NDHAND are committed to the subversion of information; on that note we introduce this section to the world--FAQs. Yes, real-life, found-on-the-Internet FAQs, but with questions from one FAQ answered by another, totally unrelated one, as in the example below:
Question from "The New WWW FAQs"; answer from "Shamanism FAQ"
Q: Why did my favorite site disappear?
A: The underlying significant aspect of this experience, when it is present, is the ability of the shaman to manage and resolve periods of distress.
We believe that two or more FAQs combined can create a totally new form of knowledge out of absolute misinformation that sounds convincing enough. Could a shaman really help ease the pain of the loss of your favorite website? Probably? Hell yes!
Send us your own: tell us, of course, where your questions and answers come from. They should come from actual sites, because misinformation cannot just be "made up." Direct your questions or submissions to FAQ editor Mickey Hess, Minister of Misinformation.
FAQs:
NEVER DINE WITH A PRO DOWSER
Zachary Cole
THE WAL-MART DISEASE
Peter Richter
RACCOON IN THE WHITE HOUSE
Mickey Hess
STDS ARE SPREAD EASIER BY E-MAIL
Glen Binger
OI! I'M LOSING MY HAIR
Mickey Hess
THE AFGHAN HOUND IS A TATTOOED ARISTOCRAT
Mickey Hess
BATS IN THE CHICKEN HOUSE
Zach Plague
HAPPY GROWING!
Jennifer Holan
AND YOU THOUGHT BLACK WIDOWS WERE HARDCORE!
Mickey Hess
CONSERVATISM: SATANISM FOR THE MASSES
James Gardner
SENSITIVE ANSWERS TO QUESTIONS FROM PLUS-SIZED PROMGOERS
Matt Hoffman
HOMESCHOOLING DOGMA
Laura Pearson
COOKIE FAQ
Glenn Lester
BLIND MAN GOT A POTTYMOUTH
Todd Dills
SEDUCING WOMEN MAKES MY FINGERS ACHE
Mickey Hess
CREATIONISM AND KINK
Paul A. Toth
ROCK GODS "PURE RUBBISH" THINK COMMUNISM IS ANYTHING BUT
Renee Haddad
JAPAN'S HALF-MAN/HALF-FISH: EVOLUTIONARY DISASTER OF THE EDO AND MEIJI PERIODS
Renee Haddad
AAARGH, COMRADE!
Peter Swigert
THE PACIFIST BLACK BELT
Peter Swigert
NIKKI SIXX DISCUSSES SARTRE
Todd Dills
HEGEL ON HIS 'ROCKING HORSE'
Mickey Hess
THIS SWITCH TO DIGITAL TV IS DRIVING ME FUCKING CRAZY
Paul A. Toth
UNDERSTANDING LEGAL PROSTITUTION THRU-HIKING
Mike Smith
WHAT DOES BEING LEFT-HANDED MEAN?
Mickey Hess
WHAT DOES GOTH MUSIC SOUND LIKE?
Mickey Hess